Business Casual Attire for Men's Outdoor Events and Activities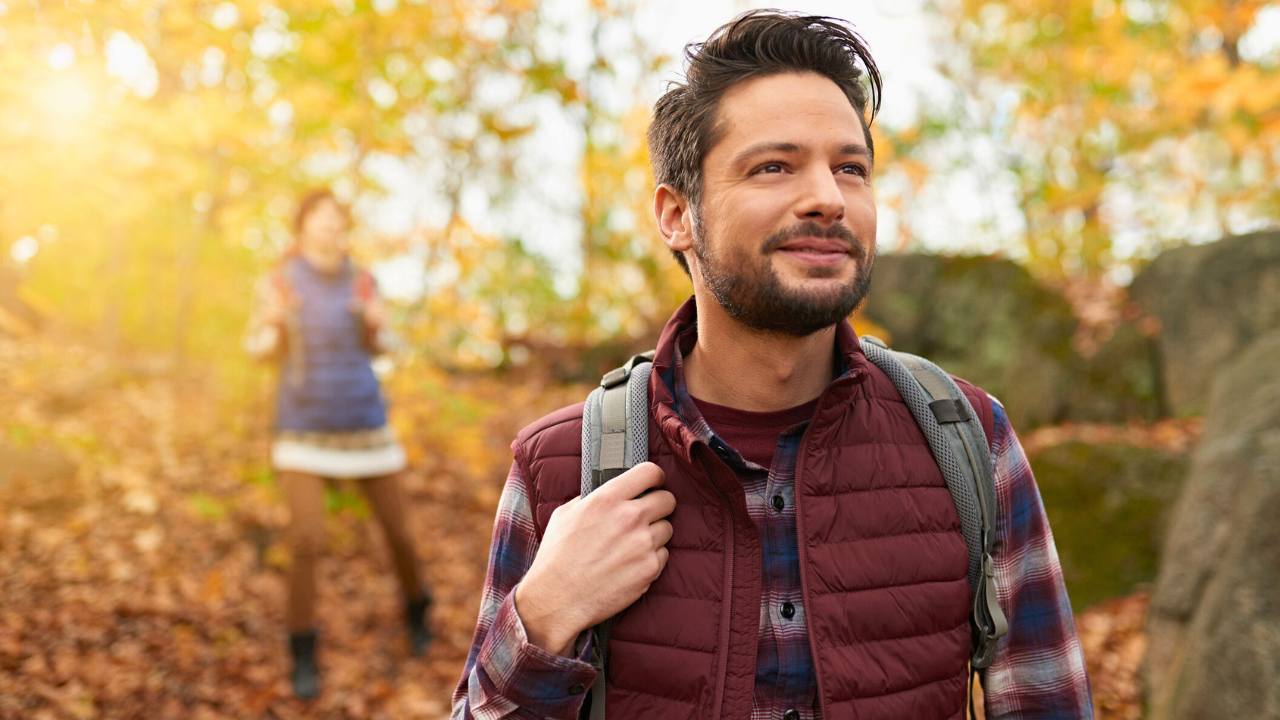 Key Takeaways 🔥
Opt for lightweight, breathable fabrics. Fabrics like linen, seersucker, and light cotton and wool allow airflow to keep you cool and comfortable at outdoor events.
Choose shirts wisely to form the foundation. Polos, short-sleeve button-downs, knits, and guayaberas balance style and breathability in airy fabrics.
Match pants to the occasion's formality. Chinos, summerweight wool trousers, seersucker, and linen pants provide tailored polish for diverse events and activities.
Accessories finish off outdoor outfits. Hats, polarized sunglasses, and light-colored shoes provide sun protection and subtle flair.
Layer lightly over shirt foundations. Vests, knit cardigans, and unconstructed blazers add lightweight warmth without sacrificing comfort.
Adapt ensembles to each event. Tailor pieces like polos, guayaberas, and technical wear to suit company picnics, races, weddings, and more.
Heading out to an outdoor event while maintaining business casual attire can seem daunting for men who want to look polished yet practical. However, with thoughtful considerations around lightweight fabrics, breezy colors, and activity-appropriate garments, gents can create ensembles that exude sophistication no matter the setting.
Choose Lightweight, Breathable Fabrics
When selecting tops for outdoor occasions, opt for airy, lightweight fabrics that will keep you cool and comfortable outside. Great options include linen, seersucker, lightweight cotton blends, lightweight wool, and moisture-wicking performance fabrics. These breathable materials allow airflow to prevent overheating while also absorbing sweat. Lighter shades like white, tan, light blue, and grey reflect sunlight's rays instead of absorbing heat.
Try a seersucker button-down or linen guayabera with intricate embroidery for a casual yet polished look. Go for a moisture-wicking polo in a solid neutral hue for versatile comfort. Or choose a lightweight cotton or cotton-blend dress shirt paired with a vest or sweater for more formal flair. Subtle patterns like gingham, chambray, and micro-prints add visual interest while maintaining a professional vibe.
Select Lightweight Bottoms
On the bottom, lightweight chinos, khakis, and trousers in tan, white, or pastels keep the look tailored while the breezy fabrics allow all-day wear. Materials like tropical wool with stretch, cotton, linen, and seersucker provide sophistication with breathability. For more casual occasions, colored jeans or performance joggers add versatility.
Tailor Outfits to Activities
When choosing attire for specific gatherings, consider the needs of the event. A dress shirt and trousers maintain professionalism for networking occasions. A polo and shorts hit the casual mark for picnics or daytime activities. Performance tops and joggers allow free range of motion for golf outings or pool parties.
By mixing breathable tops and bottoms and selecting activity-appropriate pieces, men can craft well-rounded business casual attire perfect for outdoor events. Light fabrics, cool hues, and thoughtful layering come together to exude effortless summertime sophistication, no matter the setting.
Best Shirt Options for Outdoor Business Casual
| Shirt Type | Description |
| --- | --- |
| Polo Shirts | A classic short-sleeve polo shirt in a lightweight pique or performance fabric provides a sporty staple. Opt for neutral or pastel colors. |
| Short-Sleeve Button-Downs | For more polish than a polo, short-sleeve button-downs offer versatility. Look for lightweight oxfords, madras, or linen. |
| Knit Collarless Shirts | Knit shirts like henleys and t-shirts bring a relaxed flair for casual events. The collarless neckline allows breathability. |
| Guayaberas | A sophisticated guayabera shirt with intricate embroidered details and pleats adds Latin style. Choose linen or cotton for optimal comfort. |
| Camp Shirts | For an outdoor-inspired look, camp collar shirts in fun prints or earth tones bring vacation vibes. |
| Lightweight Dress Shirts | Never underestimate the lightweight dress shirt. Crisp cotton or moisture-wicking fabric shirts maintain professionalism. |
A man's shirt selection is the foundation for building business casual outfits for outdoor occasions. Choosing lightweight, breathable tops allows gents to stay cool in the warmer weather while still conveying refined style. Several shirt options can craft stylish and comfortable ensembles perfect for navigating dress codes at outdoor events.
A short-sleeve polo shirt makes for a sporty, versatile choice that fits right in for business casual events. Opt for polos made of lightweight pique or sweat-wicking performance fabrics, which will aid comfort in the heat. Neutral and pastel color polos also help reflect sunlight away rather than absorbing the rays.
Short-sleeve button-down shirts offer breathable versatility for a more polished step up from the basic polo. Lightweight oxford, madras, or linen button-downs provide a bit of structure while maintaining airy fabrics.
Collarless knit shirts like henleys and t-shirts bring a laidback flair fitting for more casual daytime gatherings. Their collarless necks allow optimal airflow circulation, keeping gents cool.
The sophisticated guayabera shirt, with its signature embroidered details and pleats, adds a touch of Latin style to any occasion. Choosing lightweight linen or cotton guayaberas prioritizes comfort and breathability.
Camp collar shirts with their outdoor-inspired fun prints or earth-tone colors lend a sense of sunny vacation vibes to warm weather events.
And a crisp lightweight dress shirt in cotton, wool, or moisture-wicking fabric always maintains professional polish while still remaining cool.
With shirts offering many lightweight, airy options, gentlemen can craft refined business casual styles perfect for staying cool and collected no matter the outdoor event. A man's shirt provides the critical foundation for outdoor ensemble success.
Recommended Trousers for Outdoor Business Casual Events
| Fabric | Key Benefits |
| --- | --- |
| Linen | Lightweight, breathable, moisture-wicking, casual elegance |
| Seersucker | Enhanced airflow, wrinkle resistance, classic summer style |
| Microfibers | Moisture-wicking, cooling performance, technical yet professional |
| Lightweight Cotton | Premium softness and breathability, professional polish |
| Lightweight Wool | Temperature regulating, breathable, resists wrinkles, tailored |
Finding the right trousers is integral for gents crafting successful outdoor and edgy business casual attire. The ideal pants balance breathability for warmer events with a refined style suited to the occasion.
Lightweight wool offers a prime fabric option. Tropical weight wools and 8-9 ounce summerweight wools provide ample airflow to maintain comfort in the heat while resisting wrinkles during travel. A sharp pairing like summerweight wool trousers, a dress shirt, and a tailored blazer epitomizes versatile style.
Equally versatile are chinos and khakis in lightweight cotton or cotton blends. Their professional yet approachable hues – navy, gray, tan, and olive – coordinate seamlessly with most shirt selections. A straight or athletic cut allows freedom to move.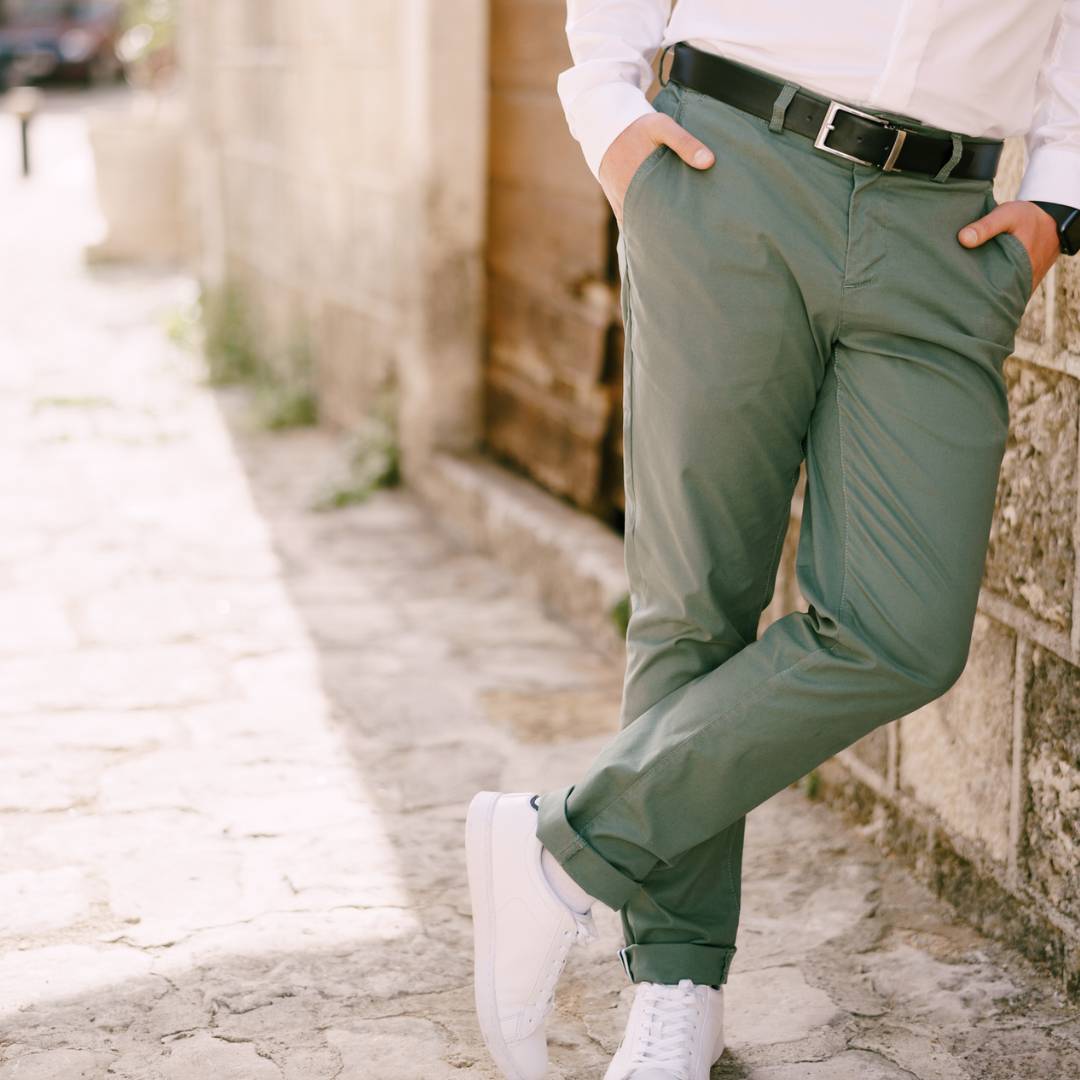 Natural fibers like linen and linen blends maximize air circulation for optimal breathability. Pure linen pants or linen-cotton blends channel an upscale casual vibe, perfect for garden parties, beach weddings, and resort events. Soft pastels, tan, and white make ideal hues. Crisp seersucker in cotton or blends sees its signature puckered stripe technology maximize airflow for summer's easy elegance. Few fabrics capture carefree summer seasons like white or colored seersucker trousers.
For events with activities, moisture-wicking technical fabrics provide unmatched mobility. Innovators like the Ministry of Supply produce office-ready pants in technical fabrics primed for volunteering or athletics. Denim with stretch retains polish while enabling movement – fresh white denim offers an intriguing chino alternative for casual Fridays, while dark indigo denim complements blazers.
The right outdoor business casual pants effortlessly keep stylish gentlemen cool and collected, ready to impress on any summer occasion. Focus on lightweight and breezy fabrics tailored for refined style.
Stay Cool and Stylish with Lightweight Fabrics for Outdoor Business Casual
| Fabric | Description |
| --- | --- |
| Lightweight Cotton | Premium softness and breathability from Pima, Supima cottons. Ideal for dress shirts, polos, pants, and suits. |
| Linen | Lightweight, moisture-wicking linen offers a casual elegance. Perfect for suits, sport coats, pants, shirts. |
| Seersucker | Signature striped cotton weave allows airflow. A classic for garden parties and outdoor weddings. |
| Microfibers | Engineered with ultra-fine moisture-wicking fibers for mobility and cooling. |
| Lightweight Wool | Tropical weight and summerweight wools provide temperature regulation and breathability. |
When crafting business casual attire for warmer weather outdoor events, breathable and lightweight fabrics prove key for stylish gentlemen staying cool and collected.
Premium lightweight cotton, like Pima, Supima, and Egyptian cotton offers an ideal softness and breathability for less formal outdoor occasions – utilize them for breezy yet polished dress shirts, polos, and suits that keep you comfortable when temperatures climb. Linen is renowned for its lightweight moisture-wicking properties that imbue an air of casual elegance – from pants to sport coats, linen excels at maintaining airflow to prevent overheating in the summer heat.
Another warm weather staple, seersucker cotton sees its signature striped puckered weave optimizing airflow. It's a classic selection for garden parties and open-air weddings – embraces seersucker in suits, blazers, shirts, and pants to stay ventilated yet refined. On the more technical side, microfiber fabrics deploy ultra-fine moisture-wicking fibers, enabling mobility and cooling. Innovative brands craft high-tech microfiber dress clothes primed for active outdoor events in the elements. Lightweight wools like tropical and summerweight also adeptly regulate temperature yet remain breathable and wrinkle-resistant. A summerweight wool suit maintains polish while enabling air circulation.
In addition to fabrics, lighter hues help reflect heat. Opt for shades of light blue, tan, white, and pastels that don't absorb sunlight's rays. With mindful textile and color choices, stylish gentlemen can craft outdoor ensembles that balance comfort and sophistication seamlessly. When the heat rises, breathable fabrics and light colors equal sartorial success.
Crafting Complete Business Casual Outfits for Outdoor Occasions
Putting together a polished and comfortable business casual outfit starts with combining the right shirt and pant pairings. Then, finish the look by layering with breathable third pieces and accessories suited to the event.
Shirt and Pant Pairings
Polo + Chinos – A sporty short-sleeve polo shirt pairs perfectly with classic flat-front chinos or colorful shorts. This smart casual outfit is perfect for company picnics, golf outings, and relaxed occasions.
Guayabera + Linen Pants – Make a style statement by pairing an embroidered Guayabera shirt with lightweight linen pants or trousers. This brings Latin flair to any outdoor wedding, cruise, or tropical event.
Seersucker Suit – A full seersucker suit oozes Southern charm. The jacket can also pair well with white jeans or khakis for a more casual take.
Camp Shirt + Trousers – A camp collar shirt with fun prints or colors dresses up chinos, linen pants, or summerweight wool trousers. It's ideal for laid-back outdoor parties.
Short-Sleeves + Denim – For casual events, short-sleeve button-ups and henleys complement jeans, colored chinos, and joggers. Add a blazer to pull it together.
Crafting Complete Outdoor Outfits with Lightweight Layers
When assembling business casual looks for warmer weather outdoor events, lightweight layers, and accessories prove integral in tying together polished yet comfortable ensembles.
For lightweight top layers, a breezy knit cotton or merino wool cardigan delivers refinement with breathability – it provides warmth after sunset without compromising air circulation. Similarly, a knit cotton or technical performance fabric vest grants sleek lightweight layering for gents who run warm. An unconstructed blazer in linen, seersucker, or textured cotton also layers attractively without overheating – opt for light hues like white, stone, or light blue. For protection from wind or water, a packable nylon bomber or technical fabric jacket offers weather resistance without weighing you down.
Refined Outdoor Accessories: Put Finishing Touches on Outfits
On the accessory front, stylish gentlemen would be remiss to overlook items like hats, eyewear, and footwear when assembling outdoor-friendly attire. Hats such as vented panamas, linen fedoras, and breathable baseball caps artfully provide sun coverage. Sunglasses with polarized lenses and durable impact-resistant frames guard eyes against glare – timeless silhouettes like wayfarers, aviators, and club masters remain eternally on point.
On your feet, light-colored shoes like loafers, oxfords, canvas sneakers, or boat shoes prevent absorbing excess heat while complementing the outfit's palette. And don't forget everyday necessities like sunscreen, insect repellent, and antimicrobial wipes to have on hand for impromptu occasions. With thoughtful choices in lightweight layers and accessories, gentlemen can fully pull together outdoor business casual looks ready for warm weather and the occasion.
Versatile Attire for Various Outdoor Business Casual Events
| Event | Attire Recommendations |
| --- | --- |
| Company Picnic | Short-sleeve polo. Flat-front chinos in cool tones. Loafers or canvas sneakers. Printed camp shirt for layers. Seersucker blazer on top. |
| Golf Outing | Moisture-wicking performance polo. Stretch chinos or joggers allow motion. Water-resistant golf shoes. Breathable sun hat shields eyes. |
| Music Festival | Graphic print short-sleeve button-down over plain tee. White jeans. Sneakers. Utility vest. Aviator sunglasses shield glare. Dad cap or bucket hat. |
| Outdoor Wedding | Guayabera-style linen shirt for airflow. Summerweight wool trousers. Loafers for footwear. Linen-silk blend jacket on top. |
| Beach Cleanup | Long sleeve linen shirts and UV protection hat. Quick-dry synthetic shorts. Water shoes for wading. Mirrored sunglasses protect eyes. |
| 5K Run | Moisture-wicking performance polo. Running shorts. Reflective sneakers. Baseball cap shields eyes. Sports sunglasses with strap stay secure. |
Attending diverse outdoor business casual events requires versatility, creativity, and appropriate attire. A short-sleeve polo forms a casual foundation for a company picnic or golf outing. Pair it with flat-front chinos or stretch joggers to enable a free range of motion. Technical moisture-wicking polos also prove handy for athletic occasions like golf tournaments or 5K races. Try a graphic print short-sleeve button-down layered over a t-shirt with white jeans for music festivals and backyard gatherings.
When weddings move outdoors, a guayabera-style linen shirt adds breathability and sophistication. Match with summerweight wool trousers and loafers. For volunteer beach cleanups, shield skin with long-sleeved linen shirts, quick-dry shorts, UV protection hats, and sunglasses. Occasionally, fend off the sun with ventilated hats like panamas, bucket hats, and baseball caps. And don't forget supportive footwear like waterproof golf or boat shoes, sneakers, or oxfords in light colors to deflect heat.
Creativity and versatility transform business casual from office to diverse outdoor functions seamlessly. Carefully select fabrics, colors, and styles suited to the environment and activities. Mixing moisture-wicking tech and natural fibers with strategic layers allows today's stylish gents to stay cool under pressure while dressing the part. With practicality and polish, you can take on any outdoor scenario looking sharp yet feeling comfortable.
Concluding with Wisdom for Outdoor Business Casual Success
Let's close this open-air adventure with some final wisdom. Whether taking on volunteer work or owning casual Fridays, constructing outdoor business casual looks takes strategy. Consider environmental demands first – mainly conquering heat, light, and activity. Arm yourself with lightweight, breathable threads that channel airflow so you stay chill. Trousers in tropical wool, cotton, linen, and seersucker weave magic. Collarless shirts and moisture-wicking polos gift comfort, too.
Calibrate your outfit for each special occasion. Active gigs like charity races beg synthetic athletic wear that banishes sweat. More laidback affairs like picnics and parties welcome relaxed chinos and guayaberas with open arms. A lightweight suit or blazer keeps polish alive when weddings and cocktails move outside.
In every case, think of versatility. Mix and match shirts, pants, and layers to craft bespoke looks for diverse settings. Stock versatile solids and patterns so outfits transition smoothly between events.
With an edited outdoor-ready wardrobe and imaginative styling, you'll slay any sunny business casual scene with sophistication. Balance refinement and enjoyment with practical yet posh pieces, so looking slick never means feeling uptight. Use these tips to own the summer sun in business casual looks with equal parts edge and airflow.
FAQ
What fabrics work best for business casual attire in warm weather?
Lightweight, breathable fabrics like linen, seersucker, tropical wool, lightweight cotton, and moisture-wicking technical fabrics allow airflow to keep you cool in outdoor business casual attire.
What types of shirts are recommended for outdoor business casual outfits?
In airy natural fabrics, polo shirts, short-sleeve button-downs, guayaberas, knit shirts, and lightweight dress shirts make excellent shirt options for outdoor business casual events.
How should I choose pants for outdoor business casual attire?
Look for lightweight chinos, summerweight wool trousers, seersucker, and linen in colors and cuts suited for the formality of the occasion. Stretch fabrics also allow mobility.
What colors work best for reflecting heat outdoors?
Lighter shades like white, tan, light blue, gray, and pastels help reflect sunlight rather than absorb heat.
How can layers be incorporated into outdoor business casual outfits?
Lightweight knit cardigans, vests, and unstructured blazers in cotton, linen or technical fabrics make excellent breathable layers over shirt foundations.
What accessories complete an outdoor business casual ensemble?
Hats like fedoras and baseball caps, polarized sunglasses, antimicrobial products, and light-colored leather or canvas lace-up shoes finish off outdoor looks with protection and flair.
How should I adapt business casual outfits for different outdoor events?
Tailor pieces like polos, guayaberas, trousers, and technical athletic wear to suit the specific environment and activities of events like picnics, races, weddings, or athletic outings.
What strategies keep you both stylish and comfortable in outdoor business casual attire?
Choosing lightweight, breathable fabrics in light colors, strategically layering for the occasion, and selecting activity-appropriate pieces allows you to stay cool while dressed for diverse outdoor events.