Zella By Nordstrom: A Review of Men's Clothing Essentials
Key Takeaways
Zella's Quality is Unmatched. Every stitch and seam in Zella's clothing is meticulously crafted, ensuring a premium feel and longevity. This attention to detail sets the brand apart in a saturated market.
Nordstrom's Legacy Shines Through. With over a century in the fashion industry, Nordstrom's expertise is evident in Zella's men's collection. The blend of style and functionality is a testament to their rich heritage.
Versatility is Key. Zella's activewear seamlessly transitions from gym sessions to casual outings. Their designs cater to modern men who value both style and comfort.
Durability is a Priority. Zella integrates unique design elements, like reinforced patches, to combat wear and tear. These features ensure that every piece remains in top condition, even with regular use.
Styling with Zella is Effortless. The brand offers actionable styling tips, from pairing activewear to elevating casual looks. Zella ensures that men can look polished without spending hours deciding on an outfit.
Zella is Worth the Investment. The brand's commitment to quality, combined with its trendy designs, offers unparalleled value. Investing in Zella is a smart choice for those seeking style and substance.
Zella Men's Clothing – Style and Performance
Nordstrom's in-house activewear brand Zella combines functionality and style for the modern man. Founded in 1901, Nordstrom has a reputation for luxury, quality, and keeping up with the latest fashion trends.
Zella designs activewear that transitions seamlessly from the gym to running errands. The brand recognizes that just because a guy works out doesn't mean he is willing to compromise on looking good. With its attention to performance features and stylish design, Zella enables men to maintain their swagger, whether lifting, doing yoga or grabbing coffee after a workout.
In a market saturated with questionable activewear, Zella stands out with its fresh, versatile designs. The clothing reflects Nordstrom's commitment to quality and style. For men seeking high-performing activewear that also makes a fashion statement, Zella hits the mark.
Activewear That Fuses Performance and Style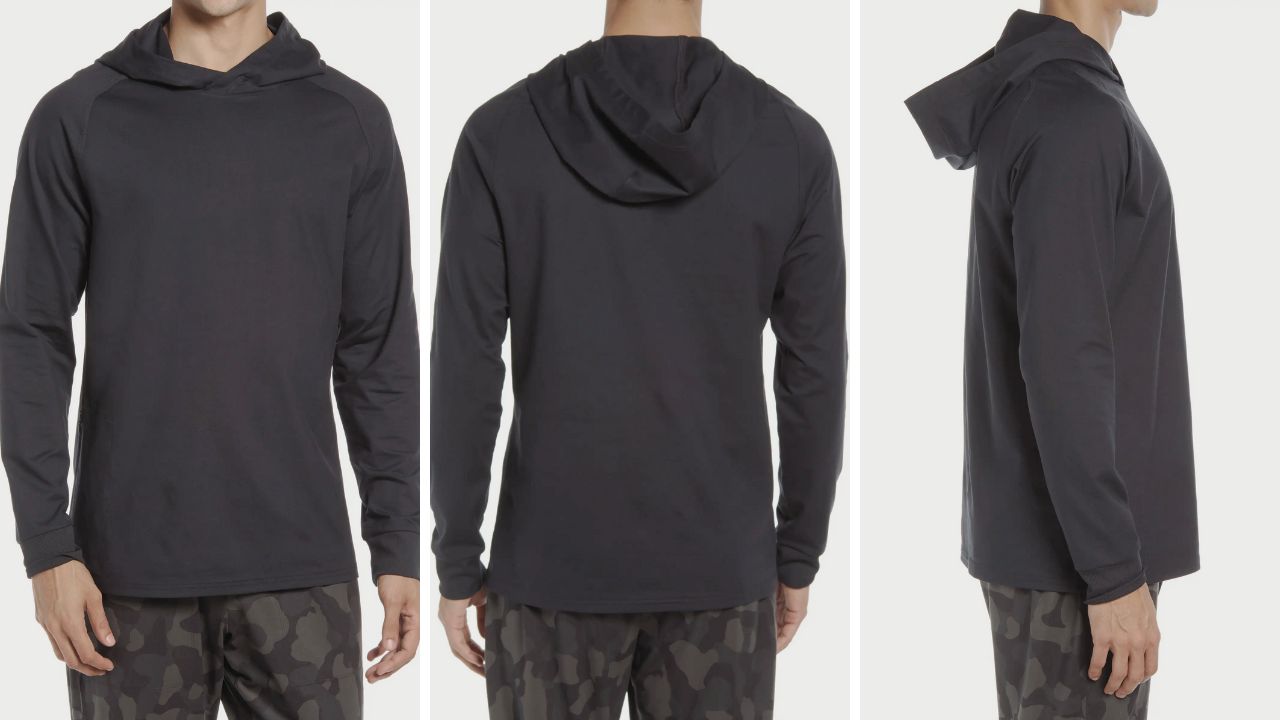 Regarding versatile activewear that transitions seamlessly from gym to street, Zella dominates as an affordable athleisure brand. The brand thoughtfully designs apparel and accessories to fit the modern man's active lifestyle.
The extensive selection includes shorts, hoodies, jackets, pants, and joggers specifically engineered from technical performance fabrics. The material contours comfortably to the body while wicking away sweat. Pieces move with you during any workout or activity while retaining their flattering shape.
Zella's dedication to fit and function never compromises on delivering sharp and stylish pieces, too. Their on-trend designs and athletic-cut silhouettes project effortless cool whether you're heading to the gym or going out afterward.
Importantly, Zella achieves this fusion of performance and style at reasonable prices as an affordable athleisure brand. While delivering elite quality and innovation, Zella offers accessible prices in line with popular activewear retailers.
Zella delivers on all fronts for the active man seeking versatility, comfort, and value. This affordable athleisure brand makes functional fitness fashion attainable.
Zella Shirts – Fresh Styles for Any Workout
The extensive Zella shirt collection caters to every workout need and personal style. Choose from compression tees for high-intensity training, lightweight tanks perfect for outdoor runs, and relaxed-fit henleys for post-workout recovery.
Whatever you choose, Zella's breathable, moisture-wicking technical fabrics will keep you cool, dry, and comfortable. The materials have enough stretch and mobility to accommodate any exercise or movement. Strategically placed mesh panels provide enhanced airflow where you need it most.
You'll find a shirt that suits your tastes in various colors, from classic black and grey to eye-catching brights. Fits range from slim and athletic to looser and more casual. The well-made shirts hold up workout after workout while retaining their shape and performance.
And with Zella's reasonable prices, you can overhaul your fitness wardrobe without blowing your budget. Zella shirts deliver on all fronts for today's active men seeking style and function during and after training.
Our Top Picks 🔥
Zella Hoodie – Elevated Essentials
Zella hoodies make a statement without saying a word. The brand offers pullovers and zip-ups that exude an effortless style. The diverse color palette ranges from timeless neutrals to eye-catching brights, suiting any taste.
Available in an inclusive range of sizes, Zella's hoodies flatter every physique, whether worn to the gym or for lounging. The quality rivals premium brands without the lofty price tag, making high-end style achievable.
Zella utilizes soft, breathable fabrics tailored for comfort and ease of movement. Clever details like thumb holes and sturdy stitching add flair while enhancing wearability. Roomy pockets provide storage space for small essentials.
Our Top Picks 🔥
The Zella Jacket – Versatile Outerwear
Regarding versatile, performance-driven outerwear, Zella delivers for today's active men. The jacket selection includes stylish options for workouts, weekends, and everything in between.
Hit the trails in a lightweight windbreaker with mesh lining that protects against unpredictable gusts while preventing overheating. The athleisure bomber jacket makes a post-workout coffee run seamlessly stylish. For added edge, opt for a bomber with unexpected sleeve stripes or colorblocking details.
The weatherproof hiking jacket withstands light rain and trail conditions with water-repellant fabric, an adjustable hood, and a pinchable hem. Don't sacrifice form for function – Zella's active jackets combine technical features with a flattering, on-trend silhouette.
Beyond activewear, Zella's tailored wool blazers and relaxed denim jackets effortlessly take you from the gym to the office or town.
With sizes ranging from small to XXL in both regular and tall lengths, guys can find an ideal fit. The quality stands up to frequent wear and washings, too. Zella jackets deliver versatility, performance tech, and durability every modern man needs.
Our Top Picks 🔥
Zella Pants – Flattering Fit for Any Occasion
Zella's extensive pants selection ensures stylish comfort however you spend your day. The range includes laidback joggers, office-ready chinos, and athletic pants with performance features.
Colors run the gamut from basic black to vibrant hues, guaranteeing a perfect shade for every activity and mood. Sizes accommodate slim and muscular builds alike. Fabrics flex with movement but maintain their shape. And the prices deliver noteworthy quality without breaking the bank.
Thoughtful details like adjustable waistbands, strategically placed pockets, and mobility-enhancing designs reflect Zella's meticulous craftsmanship.
Our Top Picks 🔥
Zella Shorts – Cool Comfort
Zella shorts fuse style and comfort for the modern man when temperatures rise. The versatile selection ranges from athletic shorts fit for a GQ shoot to casual weekend-ready styles.
The expansive color palette offers classic neutrals, eye-catching brights, and unique patterns. Sizes accommodate tall, lean builds as well as more muscular frames. Zella's competitive pricing delivers premium quality and value.
Technical features like adjustable waistbands and strategically placed pockets blend functionality with fashion. Breathable, lightweight fabrics keep you cool when outdoors. Whatever the activity, Zella shorts deliver comfort with trend-right style.
Our Top Picks 🔥
Zella Joggers – Casual Sophistication
Far from just standard sweats, Zella joggers define laidback refinement. The range offers everything from solid, understated colors to eye-catching patterns to suit any mood or occasion.
Inclusive sizing provides a flattering fit for every body type. Quality fabrics move with you while maintaining their shape. Competitive pricing makes building a jogger collection attainable.
Clever details like elastic waistbands and thoughtfully placed pockets blend comfort and functionality. Zella joggers fit any business casual setting while elevating your style game. Whether you're running errands or winding down at home, Zella brings sophistication to sweats.
Our Top Picks 🔥
Craftsmanship That Lasts: Stitching, Seams, and Design
Zella's devotion to craftsmanship shines through in the meticulous details – from the stitching to seams and even subtle design elements.
The stitching on Zella apparel is precise and durable. Each stitch is evenly spaced and reinforced to prevent loosening over time. This consistency boosts longevity and gives the clothing a polished, upscale look.
Seams are designed to lie flat and comfortable against the body, crucial for unrestricted movement. Flatlock seams on workout gear prevent chafing and irritation during sweating. The flattering seam placement enhances the streamlined aesthetic.
Reinforced panels at typical wear points add structural integrity and protect the fabric from pilling or tears. These purposeful design details discreetly build in durability and functionality.
While invisible at first glance, these nuances set Zella apart. In an era of disposable fast fashion, Zella leverages premium materials and meticulous construction to create activewear and casualwear built to last.
Styling Tips for Zella Men's Clothing
Pairing Zella Activewear for Gym and Beyond
For the gym rat who likes to look fly even when working up a sweat, Zella's activewear offers sick versatility to take your looks from the weights to the streets.
Zella's joggers, hoodies, jackets, and shirts keep you fresh during training with moisture-wicking fabrics and strategic paneling for ease of movement. The muted colors and athletic cuts transition smoothly for post-workout errands or chilling with your crew.
Mix up textures by layering a soft heather hoodie over a sleek jacket. Swap slim joggers for drawstring shorts when the weather heats up. And alternate between short and long sleeve tees depending on the climate.
The easy coordination of Zella gear lets you focus on your gains, not your garments. But the fit and quality fabrics still get you compliments at the cafe or park after your workout.
Taking Zella Casualwear to the Next Level
Zella's selection of casual basics makes elevating your off-duty style effortless. The soft, lightweight fabrics and versatile silhouettes inherent to Zella apparel lend themselves seamlessly to layering and accessorizing.
Try layering a heathered long-sleeve tee under a structured bomber jacket for weekend errands. Swap those tired sneakers for a sleek pair of black high-tops to polish the look. A minimalist backpack or crossbody bag keeps hands free while projecting a cooler-than-cool vibe.
Date night? Reach for a relaxed Zella hoodie, black moto jacket, dark skinny jeans, and suede Chelsea boots. Top with a knit beanie for an added urban edge. A unique watch and subtle silver jewelry, oozing laidback sophistication, complete this ensemble.
Pair a merino wool Zella crewneck sweater with tailored trousers and leather sneakers for refined events. Throw on a sharp blazer for a fully polished look. Matte sunglasses perched on top elevate the carefree attitude.
Zella's super soft fabrics, quality construction, and versatile styling options make elevating your casual looks effortless, whether running errands or enjoying a night out. Get ready to take your downtime-style game to the next level.
Why Zella Stands Out in Men's Activewear
After an in-depth look at Zella's extensive collection, this brand delivers men's activewear and casualwear that performs and impresses.
First and foremost, Zella prioritizes quality craftsmanship and technical innovation in all their designs. Pieces are thoughtfully constructed from performance fabrics engineered for stretch, breathability, moisture wicking, and ease of movement. Athletes, weekend warriors, and fitness enthusiasts find Zella apparel keeps up with their active lifestyles.
Equally important, Zella enables personal style and self-expression. Their mix-and-match collection ranges from understated basics to eye-catching designs in bold prints and colors. No matter your aesthetic, you can create versatile looks that are distinctly yours.
While some activewear brands sacrifice comfort for style or vice versa, Zella strikes that elusive balance. Their flattering, fashion-forward pieces also deliver durability, comfort, and functionality. Effortless style shouldn't require effort.
Finally, Zella offers luxury quality without the outrageous designer price tags. Well-made activewear and everyday casualwear are attainable for every budget.
Zella delivers on all fronts for today's men seeking high performance and style. This brand makes functional fitness fashion so you can feel good working out and wearing out.
FAQ
Is Zella owned by Nordstrom?
Yes, Zella is one of Nordstrom's proprietary activewear brands. Nordstrom created it to offer stylish workout apparel.
Is Zella made by Lululemon?
No, Zella is not made by Lululemon. It is designed and produced exclusively for Nordstrom under their private label brands.
Does Zella run big or small?
Zella tends to run true to size, but some slimmer fitting items like leggings may run small. Reviews suggest sizing up between sizes for a comfortable fit.
Is Zella for men?
Yes, Zella has an extensive activewear line for men, including tops, hoodies, jackets, pants, shorts, and joggers. The brand designs pieces for both gym and casual wear.
Is Zella exclusive to Nordstrom?
Zella is a Nordstrom-exclusive brand only available at Nordstrom stores and on their website. You cannot buy Zella products directly from the brand.
What fabrics are used in Zella apparel?
Zella utilizes technical, performance fabrics that wick moisture and allow airflow. Materials include breathable polyester and spandex blends. The fabric selection focuses on comfort and ease of movement.
Does Zella have sales or discounts?
Yes, Zella items are often included in Nordstrom sales and promotions. The brand offers affordable pricing on par with discount activewear labels. Signing up for Nordstrom's email list can help you find Zella deals.