5 Best Affordable Athleisure Brands for Men to Upgrade Your Game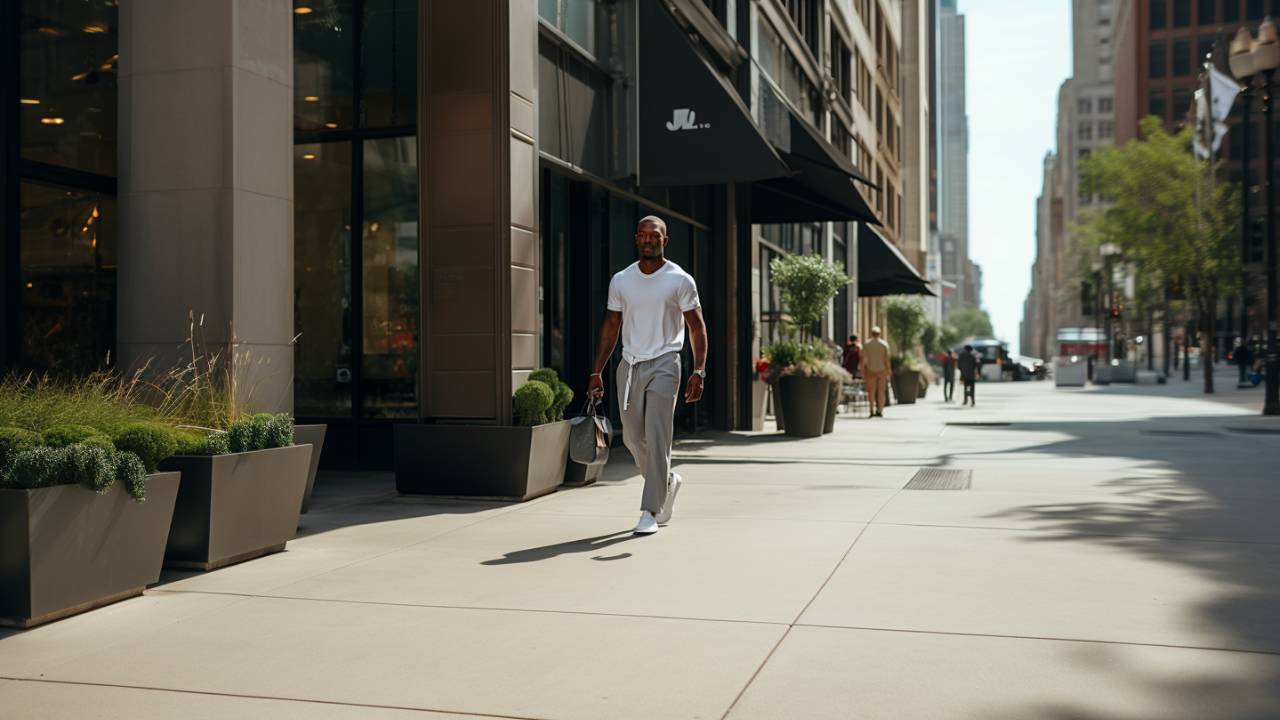 Key Insights
Affordable athleisure is on point. Quality activewear is attainable even on a budget. By shopping smart, you can find versatile pieces perfect for workouts, weekends, and everything without spending a fortune.
Know your needs before buying. Consider your workout habits, style preferences, and frequency of wear. This ensures you choose gear aligned with your lifestyle that flatters your physique. Making informed choices prevents wasting money on impulse purchases.
Inspect materials first. Athletic apparel lives and dies by its fabrics. Look for sweat-wicking synthetic blends with stretch for peak performance during training sessions. Test durability by giving items a gentle tug to avoid poor construction. Quality craftsmanship doesn't have to be expensive.
Seek hidden gems. Beyond big names, niche brands disrupt athleisure with thoughtful design and ethical production without insane price tags. Do some digging and discover affordable labels that work with your budget and personal aesthetic.
Mix performance with style. Affordable activewear should never look cheap or feel restrictive. Carefully chosen pieces allow you to look cool when crushing workouts and chill when grabbing coffee with the crew. Function meets fashion with the right affordable athleisure picks.
Affordable Athleisure Brands for Men
Athleisure has blown up recently, becoming a mainstay in men's casual fashion. The idea of clothing that transitions seamlessly between workouts and everyday wear used to seem far-fetched, but the athleisure style trend has shown that comfort and style aren't mutually exclusive.
Affordability is key for guys looking to sport the athleisure look without breaking the bank. Luckily, plenty of brands create sick activewear that doesn't cost an arm and a leg. Quality doesn't have to mean designer price tags. With some smart shopping, fellas can find gear that's both budget-friendly and looks fresh.
The key is finding pieces that combine performance and lifestyle appeal. No one wants their gym clothes to look sloppy or restrictive during downtime. Likewise, leisurewear that can't hold up during exercise misses the mark. When sourced intelligently, athleisure outfits should function well across multiple scenarios without demanding a premium cost.
For today's active guys interested in cultivating a laidback look, reasonably-priced athleisure offers the best of both worlds. Making smart buys allows you to stock your closet with versatile apparel perfect for everything from hitting the weights to grabbing a coffee with friends. Affordable athleisure means not having to sacrifice style or comfort.
The Importance of Athleisure in Modern Men's Fashion
The Rise of Comfort in Men's Fashion
The menswear scene has experienced a major shift in recent years with the rise of athleisure. Guys increasingly prioritize comfort and versatility over a stiff formality when getting dressed. This movement towards relaxed, sporty clothing represents a new chapter in men's fashion.
In the past, style for men centered on tailored suits and office-appropriate attire. But these days, the working world has become more casual. With remote work options, flexible dress codes, and a cultural emphasis on wellness, comfort is king. For modern men with active lifestyles, athleisure wear makes sense.
The beauty of affordable athleisure lies in its adaptability. Quality activewear transitions effortlessly from the gym to the street. Moisture-wicking fabrics, stretch materials, and athletic cuts allow for a full range of motion while looking put together. Whether heading to a workout or out to brunch, athleisure-inspired outfits keep guys looking sharp and feeling their best.
Beyond versatile wearability, athleisure apparel provides unmatched comfort. Breathable textiles and elastic construction ensure clothes that move with you. Performance fabrics' soft, lightweight feel isn't matched by stiff woven shirts or restrictive denim. For today's men, opting for relaxed athleisure over formal attire is about prioritizing freedom and ease in their wardrobe.
While once dismissed as just gym clothes, athleisure wear plays a central role in men's fashion. The rise of versatile, comfortable clothing represents an exciting shift towards lifestyle-appropriate style for the modern guy.
Affordable Athleisure Brands Are Essential
When it comes to athleisure, high price tags aren't mandatory. While some brands hype up exclusivity and luxury materials, affordable options deliver the core benefits of athletic wear without gouging your wallet. For the athleisure trend to keep growing, budget-friendly picks are crucial.
Performance apparel has a reputation for carrying premium costs. But not all guys have hundreds to drop on moisture-wicking shirts and stretch joggers. Luckily, mainstream brands have started offering quality activewear at reasonable rates. Instead of spending big bucks on brand hype, shoppers can invest in affordable athleisure that perfectly serves their lifestyle needs.
The key is avoiding compromise. Affordable athleisure doesn't have to mean low-grade fabric or lackluster construction. Savvy shoppers know what to look for to get value and performance without extra frills. Clever cuts, smart textile blends, and pared-down design elements help keep costs down while maintaining quality.
When executed thoughtfully, affordable athleisure offers everything the modern guy could want. Breathable jersey trims, elastic waistbands, adjustable cords; all the athletic details without painful price tags. For men seeking versatility, comfort, and style, affordable options deliver in spades.
Of course, rock-bottom pricing and off-brand names aren't always the move. But paying top dollar isn't necessary either. Many respected athleisure brands balance quality and accessibility, catering to fitness fans and casual dressers. Affordable athleisure means men of all budgets can embrace the comfort-meets-style movement.
Top 5 Affordable Athleisure Brands for Men
A few brands consistently deliver the best quality, style, and value balance. For budget-conscious guys looking to refresh their activewear drawers, labels like Threadfast Apparel, Real Essentials, Amazon Essentials, Zella from Nordstrom, and Gap are worth checking out.
With their focus on accessibility and versatility, these brands make upgrading your wardrobe achievable rather than extravagant. Their smart takes on classic athletic silhouettes and use of technical fabrics remove the pretense and hype from performance apparel. For the modern man, their offerings provide a route to embracing athleisure at wallet-friendly prices.
Threadfast Apparel
Threadfast Apparel represents a new generation of athleisure brands focused on sustainability. Founded in New York City, the company makes apparel from recycled materials and promotes eco-conscious practices. Their slogan, "There is no planet B" encapsulates their environmentally-minded ethos.
The brand offers versatile activewear like their "Ultimate Tee" and "Triblend Collection" for modern men seeking comfort and style. Outerwear and fleece items provide options for various weather conditions. Threadfast also produces an "Impact Collection" line from recycled plastics and fabrics to reduce waste.
While mindful of their social and environmental goals, Threadfast Apparel keeps prices relatively affordable. They aim to prove that quality and value can intertwine through careful material sourcing and streamlined design. Their fabrics, like recycled polyester and cationic heathers, offer uniqueness in both sustainability and performance.
Threadfast provides an alternative for the eco-conscious shopper in the expanding athleisure market. By fusing design with sustainability, the brand brings a fresh perspective lacking in many competitors. For today's socially aware men, Threadfast allows them to make a statement through quality gear that benefits the planet.
Real Essentials
Founded to provide reliable, affordable basics for all, Real Essentials has quickly made a name for itself in athleisure apparel. CEO Isaac Wolfe sought to address a lack of quality, budget-friendly clothing for casual and active lifestyles.
The brand offers inclusive sizing across a wide selection of clothing, recently expanding into categories like swimwear and denim. Their Spring/Summer 2023 collection showcases new arrivals like the Women's Surf 2-Piece Swimsuit, Boys' Swim Board Shirt, and Big & Tall Men's V-Neck Tees. Multi-pack offerings provide cost-effective options for stocking up on athletic and lounge staples.
While keeping prices low, Real Essentials emphasizes durable fabrics and thoughtful design in their products. Their ability to fuse affordability and quality has garnered notice, including a successful collaboration with actor Mario Lopez.
In the competitive activewear space, the brand has carved out a niche delivering stylish yet accessible clothing for all. Real Essentials provides an appealing alternative for budget-conscious shoppers seeking comfort and style by focusing on inclusivity, value, and versatility.
Amazon Essentials
As part of Amazon's expansion into fashion, Amazon Essentials is an affordable athleisure brand with everyday items at budget-friendly prices. While not an established fashion brand, Amazon Essentials benefits from the e-commerce giant's reputation for convenience and customer service.
The brand provides casual clothing like t-shirts, sweaters, and loungewear for men and women. They focus on creating versatile pieces that can be incorporated into any wardrobe. The extensive selection aims to meet the clothing needs of most consumers.
A key advantage Amazon Essentials touts is delivering quality without high price tags. As an Amazon-affiliated brand, they can offer competitive pricing while maintaining decent fabric and construction standards. The convenience of shopping through Amazon's platform and leveraging their customer support also appeals to buyers.
Amazon Essentials provides a reliable option backed by Amazon's trusted marketplace for shoppers seeking affordable, everyday basics to supplement their wardrobe. The brand effectively targets those looking for value combined with style and versatility. While not a luxury or designer label, Amazon Essentials fills a niche for budget-minded consumers.
Zella by Nordstrom
As one of Nordstrom's in-house activewear labels, Zella benefits from the retailer's reputation for quality and customer service. They are one of our favorite affordable athleisure brands available. First launched to meet demand for stylish athletic apparel, Zella provides a range of performance sportswear and athleisure essentials.
Given its Nordstrom backing, Zella features thoughtful design and fabric selection generally found at higher price points. Offerings like moisture-wicking leggings and loungewear cater to both fitness and casual wear. The brand focuses on innovative textiles to deliver style, comfort, and durability.
Compared to other athletic brands, Zella provides competitive pricing without compromising quality. Nordstrom's commitment to ethical manufacturing ensures pieces are crafted sustainably. Zella presents an appealing athleisure option for consumers seeking value and excellence carrying the Nordstrom stamp of approval.
While a relatively new player in activewear, Zella men's clothing leverages Nordstrom's legacy in the fashion space. The brand effectively delivers stylish, sustainable workout and leisure wear reasonably priced. With quality and price-conscious shoppers in mind, Zella fills a void within Nordstrom's expanding athleisure offerings.
Gap
As an established player in the apparel space since 1969, Gap has recently expanded into athletic and leisure wear to address rising demand. Leveraging decades of experience outfitting customers in denim and wardrobe basics, the brand now provides stylish activewear essentials.
Gap's athleisure offerings include versatility and performance, like moisture-wicking tops and fleece-lined joggers suitable for workouts or casual wear. Notable releases include the GapFit Tech Fleece Hoodie, GapFit Recycled Active T-Shirt, and GapFit Full-Zip Fleece. The selection aims to deliver comfort, durability, and style for active lifestyles.
While providing quality fabrics and construction, Gap keeps activewear pricing competitive, with most items under $70. Gap is a values-driven company that utilizes ethical manufacturing and sustainably sourced materials in its athleisure lines.
Gap provides a compelling value-driven option for shoppers seeking reliable active basics on a budget. By translating its design heritage to athletic apparel, Gap makes quality workout and leisure essentials accessible to a wide audience.
Tips for Choosing the Right Athleisure Wear
Understanding Your Needs
The first step when shopping for affordable athleisure brands is clarifying your needs and preferences. Taking the time to understand how you plan to use the pieces will ensure you make savvy buys.
Think about your workout habits and interests. Are you a marathon runner or a weekend yogi? Do you hit the weights hard or just go for walks? Your activity levels will determine if you need super breathable and sweat-wicking fabrics or can get away with standard cotton blends.
Also, consider the frequency of use. If you live in activewear, durability is key alongside comfort. Opt for quality materials built to last through repeat wears and washes. More casual gym-goers can likely save by buying budget-friendly basics.
Beyond performance, nail down your style. Are you all about understated neutrals and minimalist design? Or do you embrace bold colors and eye-catching prints? While function trumps form, expressing your aesthetic in athleisure keeps the fun in fitness.
Taking stock of your lifestyle and preferences helps filter options. With the variety on offer, zeroing in on must-haves for your needs simplifies the activewear search. Know yourself before filling your cart with the latest athleisure trends and releases.
Checking Material and Durability
When evaluating affordable athleisure brand options, carefully inspect the materials used. Fabrics make or break both performance and longevity. Natural fibers like cotton and wool may look and feel great but lack the sweat-wicking prowess needed for intense training. Synthetic blends with spandex, polyester, and nylon provide stretch and moisture control for active days.
Test stretch and structure by giving the fabric a gentle tug. Pieces that quickly lose shape likely won't endure repeated wear. Examine seams and stitching for secure construction. Durable athletic apparel will feature flatlock or overlock sewing and reinforced stress points. Opt for quality textiles from trusted brands for longevity across workouts and leisure. With some savvy inspection, you can find affordable athleisure that looks fresh while still holding up over time.
Get in the Game: Make Affordable Athleisure A Priority
Affordable athleisure offers an exciting avenue for guys to embrace the functionality and comfort of activewear at wallet-friendly prices. You can curate versatile workout and weekend wear by understanding your needs and style, filtering options based on quality materials and construction, and exploring brands making budget-conscious apparel.
While some top brands push luxury price tags, the essential athleisure look doesn't require designer costs. Many companies create stylish pieces perfect for the gym and the streets. Finding items aligned with your lifestyle allows you to upgrade your wardrobe without draining your accounts.
Affordable athleisure brands bring fresh possibilities to your closet. With some savvy shopping, you can discover the right balance of quality, comfort, and value in brands catering to your unique taste. The options are vast; now, explore and assemble athletic apparel perfectly suits your lifestyle.
FAQ
What makes athleisure wear affordable?
Affordable athleisure utilizes cheaper synthetic fabrics, minimalist designs, and streamlined production to lower costs. Brands also order materials in bulk and sell direct-to-consumer to improve pricing.
What are the top affordable athleisure brands for men?
Leading affordable athleisure brands for men include Threadfast Apparel, Amazon Essentials, Real Essentials, Gap, and Zella. They provide quality construction with moisture-wicking fabrics at reasonable prices.
Where can you buy affordable athleisure for men?
For direct ordering, you can shop for men's affordable athleisure brands through company websites. Many are also available on Amazon or platforms like Nordstrom and Everlane. Discount retailers like Old Navy also carry budget-friendly options.
How much should you spend on affordable athleisure?
Quality, affordable athleisure ranges from $20 to $60 for most tops, shorts, and pants. Expect to spend $50 to $100 or more for outerwear like jackets, depending on materials.
What should you look for when buying affordable athleisure?
Focus on sweat-wicking technical fabrics, a comfortable fit allowing free movement, and durable construction at stitching points when evaluating budget athletic wear. Simple, versatile styling is also key.
How do you style men's affordable athleisure wear?
Men can style affordable athleisure pieces by pairing joggers, shorts, or tops with casual shoes like sneakers or sandals. Layer with an unstructured jacket or hoodie for a relaxed, put-together weekend look.
Does affordable mean poor quality for athleisure?
Not necessarily. Many brands use innovations in fabric blends and streamlined designs to lower costs while maintaining quality construction. Checking materials and seams can ensure affordable athleisure lasts.
Why choose affordable over high-end athleisure?
Beyond the lower prices, affordable athleisure provides better value for casual gym-goers and those new to the activewear trend. For budget-conscious shoppers or those just needing basic workout gear, it's the smarter, more accessible choice.