5 Must-Have Short Sleeve Henley Shirts for Men
Key Takeaways 🔥
Stand out from the tee shirt crowd with the Henley's refined edge. Its partial placket and ribbed collar add simple yet distinctive details that say carefree cool.
Nail both weekend and office looks thanks to the Henley's versatility. It easily layers under tailored jackets or replaces tees for a polished casual style.
Find your perfect fit and feel with strategic sizing by arm's length. Measure from neck to wrist bone and size up if seams pull at the shoulders. A roomy but not oversized cut looks best.
Go vintage for heritage appeal with styles featuring wider ribbed trim, imperfect dyed patterns, and relaxed boxy fits. Modern labels like Bronson and Vintage 1946 capture that nostalgic 1950's gym class vibe.
Lean into Henley's laidback attitude and pair it with distressed denim, joggers, shorts, or casual trousers like chinos. Keep accessories like sneakers or boat shoes equally relaxed.
The Henley Shirt: A Classic Choice for Men
The Henley shirt is a timeless staple every man should have in his wardrobe. With its simple yet refined design featuring a partial button placket and ribbed collar, the Henley is much more than just a basic t-shirt. It oozes casual masculinity and versatility, making it a go-to top for men for over a century.
The Henley first emerged in the late 19th century as the uniform of rowers in the town of Henley-on-Thames in England. The design allowed ease of movement with its sleeveless cut, while the front placket was practical for rolling up sleeves. Henley shirts were soon adopted by polo players, sailors, and manual laborers for their functionality. By the early 1900s, Henleys became commonplace as athletic leisurewear.
Today, the Henley remains a classic menswear essential that seamlessly transitions from weekend wear to a more polished look. Its knit fabric and structured collar elevate it above a regular tee. The Henley offers a relaxed yet put-together vibe for everything from running errands to first dates. For men wanting an effortlessly cool top, you can't go wrong with a Henley shirt.
History of The Henley Shirt
While the exact origins are disputed, the Henley shirt is named after the town of Henley-on-Thames in Oxfordshire, England. In the 19th century, rowing was a popular sport, and the Henley Royal Regatta, founded in 1839, became a prestigious rowing event. The Henley shirt was designed as the uniform for Henley rowers, tailored for ease of movement with a sleeveless cut and buttons on the front placket for adjusting sleeve length. The design soon spread to other sports, and by the early 1900s, Henley shirts had become a popular athletic and leisurewear staple for men.
The Henley's Rise to Popularity
While the Henley shirt has been around since the late 1800s, it gained mainstream popularity in the last few decades, thanks partly to leading men sporting it on the big screen. When Ryan Gosling wore Henleys in romantic films like The Notebook, it gave the top a dose of sex appeal. The Henley allowed Gosling to achieve a relaxed, rugged look while still looking put-together.
From James Dean to David Beckham, henleys have also been featured on men's style icons off-screen. The Henley became a symbol of effortless cool. At the same time, the rise of casualwear and athleisure in the 2000s made the laidback Henley a natural fit.
Beyond the celebrity world, the Henley offers versatility no matter the season. In summer, it's an alternative to the basic tee, with buttons adding visual interest. Layered under flannel or leather in fall, the Henley brings lightweight warmth. It bridges the gap between casual and smart casual under a blazer or with rolled sleeves. The Henley can span the calendar in style.
Top Picks for Henley Shirts
A few key brands are leading the pack when selecting the best Henley shirts for your wardrobe. These labels offer top-notch craftsmanship, innovative designs, and premium fabrics that instantly elevate your look.
One standout is the AO Henley Curve-Hem by Cuts, made from a lightweight and breathable tri-blend knit fabric with a distinctive curved hem for easy movement. BYLT Basics also impresses with their Henley Drop-Cut, featuring a throat latch and dropped shoulders for a relaxed vibe.
Here's a breakdown of the five short sleeve Henley shirts:
| Brand | Style | Price | Colors | Fit | Features |
| --- | --- | --- | --- | --- | --- |
| Cuts Clothing | AO Henley Curve-Hem | $58 | Black, white, gray, navy, military green | Tailored, skims body | Curved hem for mobility |
| BYLT Basics | Henley Drop-Cut | $35 | Black, gray, navy, white | Relaxed, roomy | Dropped shoulders, throat latch |
| Vuori | Short-Sleeve Ever Henley | $58 | Black, white, navy, gray, khaki | Athletic, tailored | Moisture-wicking technical fabric |
| HNLY | Leblon Henley | $75 | Black, white, navy, light blue | Slim, not too fitted | Peruvian Pima cotton |
| HNLY | Mackinaw Henley | $85 | Gray, navy, black, light brown | Relaxed | Enzyme washed for vintage look |
AO Henley Curve-Hem by Cuts
Cuts Clothing is known for its fits that skim the body for a tailored yet relaxed vibe, and their AO Henley Curve-Hem exemplifies that balance. Available in black, white, gray, navy, and military green, this Henley comes in sizes XS-XXL. It's made from a tri-blend fabric of 50% polyester, 35% cotton, and 15% rayon, providing lightweight breathability.
The AO Henley retails for $58, landing in the medium price for quality knit tops. Design details include a 3-button placket, ribbed collar and cuffs, and distinctive curved hem that dips lower in the back for enhanced mobility. This ideal Henley is for active guys who still want a refined look.
This Henley can handle everyday wear while making you look sharper than throwing on an old tee. Cuts brings its expert fit styling to the classic Henley for a combination that pops when headed to brunch or running errands. The AO Curve-Hem's blend of comfort and clean lines deserves a spot in your casual wardrobe lineup.
Henley Drop-Cut: BYLT Signature
BYLT Basics brings its minimalist aesthetic to the classic Henley with the Drop-Cut design. Available in black, gray, navy, and white, it comes in sizes XS-XXL for a tapered yet roomy fit. The midweight fabrication consists of a 100% cotton jersey that's smooth and soft against the skin.
This Henley usually sells for $35 (currently on sale for $26.25), an affordable price point for a quality basic. Design features include a 4-button placket, ribbed collar, and dropped shoulder seams for enhanced ease and range of motion. A throat latch closure provides another level of versatility.
For guys who want a relaxed Henley that can still be dressed up, BYLT Signature's Drop-Cut is a sharp choice. The cotton fabric offers exceptional comfort as an elevated undershirt or a tee replacement. Paired with joggers or chinos and a blazer, it bridges the gap from weekend wear to workweek style. The Drop-Cut is a Henley essential made better through BYLT's thoughtful details and fabrication.
Short-Sleeve Ever Henley by Vuori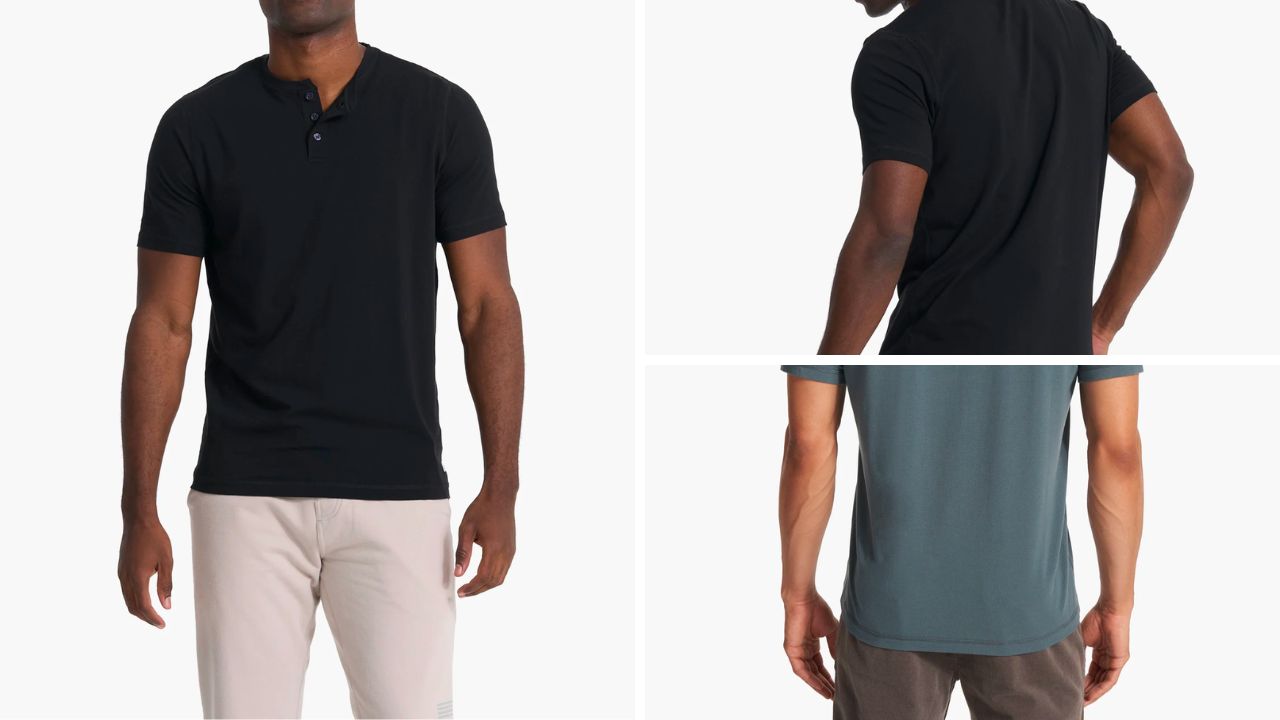 Vuori's Short-Sleeve Ever Henley is a performance-ready pick for guys with an active lifestyle. It's available in sizes XS-XXL, black, white, navy, gray, and khaki. The lightweight knit fabric is a moisture-wicking polyester/spandex blend ideal for workouts or all-day wear.
This technical Henley retails for $58, a reasonable price given its quality materials. Design features include a 3-button placket, ribbed collar and cuffs, side vents for ease of movement, and a subtle textured pattern. The cut is tailored but not restrictive.
Vuori brings its activewear expertise to the Henley shirt for a technical take on a casual classic. The lightweight, breathable fabric keeps you cool during physical activity while resisting odors over time. Yet the Henley still looks stylish enough to pair with jeans or chinos for weekends out. For guys with an energetic lifestyle, the Ever Henley is an ideal performance Henley.
Leblon HNLY
HNLY is known for its premium takes on classic menswear staples, and the Leblon Henley exemplifies their craftsmanship. Available in black, white, navy, and light blue, it comes in sizes XS-XXL. The fabrication is 100% Peruvian Pima cotton with a soft hand feel.
Priced at $75, the Leblon sits at the higher end for Henleys but delivers quality to match. Design details include a 4-button placket, ribbed collar and cuffs, side vents, and a slim but not constricting fit. The cotton fabric has a bit of natural stretch for ease of movement.
For guys wanting an elevated Henley made from exceptional materials, HNLY's Leblon is a sound investment. The Pima cotton offers breathability for year-round wear, from a standalone tee to layered under a leather jacket when temperatures drop. Whether dressing it up or down, the Leblon's craftsmanship ensures it will become a go-to in your casual wardrobe.
Mackinaw HNLY
For guys wanting a vintage, worn-in Henley, HNLY's Mackinaw delivers on that aesthetic. Offered in gray, navy, black, and light brown, it comes in sizes XS-XXL. The fabrication is a slub jersey made from a cotton/modal/poly blend with a perfectly imperfect, heathered texture.
The Mackinaw is priced at the higher end at $85, reflecting HNLY's commitment to premium materials. The lived-in look comes from a specialty enzyme wash. Other details include a 3-button placket, ribbed collar and cuffs, side vents, and relaxed fit.
This Henley oozes throwback cool, perfect for weekend adventures or just casual downtime. The soft, slub jersey fabric achieves that nostalgic, retro vibe while remaining breathable and comfortable when temperatures rise. For a vintage Henley with off-duty appeal, HNLY's Mackinaw is a distinctive choice that delivers on quality and craftsmanship.
What Makes a Short Sleeve Henley Shirt Unique
The Henley shirt stands apart from a regular tee thanks to several distinguishing features that give it a more refined yet casual vibe. The partial button placket is Henley's most identifiable detail, offering versatility for wearing open or closed. The placket typically contains 3-5 buttons, allowing you to adjust coverage.
The Henley also gets its structure from the ribbed collar that neatly frames the neck, maintaining its shape wash after wash. Ribbed sleeves provide a subtle texture. The tailored fit skims the body compared to the boxier cut of basic tees. A curved or dropped hem enhances mobility.
Overall, the Henley provides a clean, minimalist look that remains comfortable thanks to its knit jersey fabric. But small touches like the placket and curved hem elevate it above a typical tee. A Henley can still be dressed down with jeans and sneakers but won't look sloppy. It offers a balance of casual comfort with refined lines.
A short sleeve Henley is ideal for spring and summer when temperatures climb. The partial placket lets you pop an extra button for a subtle breeze. The sleeveless cut also showcases toned arms. Yet a Henley can layer smoothly under a casual blazer or jacket when needed. A black short sleeve Henley shirt checks all the boxes for guys wanting an effortlessly cool top.
Styling Tips for Wearing a Short Sleeve Henley Shirt
A short sleeve Henley shirt offers versatile styling potential whether you're dressing for the office or the weekend. While a basic tee can look sloppy, a Henley provides a put-together vibe while remaining supremely comfortable. Use these tips to make the most of your Henley.
A Henley easily replaces a tee to elevate your casual looks. Keep the rest of the outfit simple – dark wash jeans and white sneakers or chukkas – and let the Henley be the star. Leave the placket unbuttoned for a relaxed feel or button up for a cleaner finish.
During transitional weather, a Henley layers smoothly under shirts, sweaters, and jackets. Keep the top button or two undone and pair it with an unstructured blazer or denim jacket. A Henley also wears well solo in milder weather. Roll up the sleeves and open an extra button to keep comfortable.
Play with color to complement different outfits. Neutral white, black, gray, and navy Henleys pair seamlessly with most bottoms. Earth tones like olive and rustic red work for casual, tailored looks. Lighter shades of blue, pink, and lavender make great statement pieces.
Wearing a Short Sleeve Henley Shirt In the Office
A Henley can still look professional with the proper styling, even in more formal work settings. Stick to neutral, versatile colors like white, gray, navy, and black. Pair it with black or navy joggers or chinos, slipping on loafers or leather sneakers on your feet. A fitted blazer over your Henley instantly pulls the look together.
For business casual offices, feel free to embrace a short sleeve button-up shirts more freely. Play with patterns and colors when pairing it with jeans or colored chinos. Just keep the rest of the accessories simple – a sleek watch and leather belt are all you need.
Wearing a Short Sleeve Henley Shirt On the Weekend
When dressing for downtime, anything goes with a Henley. Lean into the laidback vibe with distressed denim, joggers, shorts, or casual trousers like chinos. Sneakers or boat shoes keep it simple.
Layer it under an unstructured jacket like a denim or bomber jacket for a relaxed edge. Roll up the sleeves and wear open for an effortless feel.
A Henley also pairs well with white or black jeans when you want cleaner lines but are still comfortable. And during summer, rock it solo with shorts and slip-on Vans or pool slides. Just avoid over-distressed bottoms to prevent looking overly sloppy.
Whether dressing up or down, a black short sleeve Henley shirt offers versatility for work and play. Following these simple guidelines ensures your Henley game is on point.
Bringing Back the Vintage Henley Shirt
While today's Henley shirts offer updated fabrics and cuts, there's something undeniably cool about a vintage take on this classic. Henleys from past eras bring back the authentic heritage style.
Vintage Henleys from the 50s, 60s, and 70s were cut roomier with a boxy fit as an undershirt or casual tee. They were often made of lightweight cotton blends for breathability. Details included wider ribbed collars and plackets with reinforced stitching for durability.
These days, reproductions aim to capture those vintage details in new versions—a broken-in, lived-in look with naturally faded fabric and slightly imperfect weaving and dyed patterns. Wider, ribbed collars, cuffs, and relaxed fits through the body help nail that throwback vibe.
Features of Vintage Henley Shirt
The nostalgic, pre-worn appeal of vintage Henley shirts connects today's men to past generations of style. Their laidback cool stands the test of time.
| Vintage Henley | Modern Henley |
| --- | --- |
| Wider ribbed collar and cuffs | Slim collar and cuffs |
| Looser, boxier fit | Tailored, fitted cut |
| Thicker, durable buttons on the placket | Smaller, plastic buttons |
| Natural fading or imperfect dyed patterns | Solid colors or minimal patterns |
| Heavyweight all-cotton or cotton blend knits | Lightweight synthetic blends |
| Reinforced stitching on seams | Clean finishing on seams |
| Neutral, retro colorways | Variety of color options |
Our Top Pick! The Vintage Short Sleeve Henley T-Shirt by Bronson
Bronson's short sleeve shirt captures that perfectly imperfect look for an authentic vintage Henley. Offered in white, gray, and black sizes S-XXL, the midweight fabric is a cotton/poly blend with a naturally worn and faded finish.
Priced at $29.99, this vintage-style Henley sits at an attractive point considering its premium materials and quality construction. The 3-button placket, ribbed collar, and raw edge sleeves emulate details of old-school Henleys.
Bronson's short sleeve Henley is like an instant vintage find with its relaxed fit, pre-washed fabric, and neutral colorways. Pair it with distressed denim and sneakers for a casually cool weekend look with roots in heritage Americana style.
Where Else to Buy Short Sleeve Henley Shirts
While specialty brands highlighted here offer quality Henleys, you can also find a variety of styles at major retailers. Shopping online or in-store allows browsing different brand options before purchasing.
Retailers
Department stores like Macy's, Nordstrom, and Dillard's carry short sleeve Henley shirts from diverse labels. Macy's sells brands like Weatherproof Vintage, Alfani, Club Room, Lucky Brand, and Mio Marino. Their Henleys come in regular and slim fits, ranging from $20 budget picks to $60 for premium materials.
Nordstrom Rack offers henley deals under $30 from brands like Vintage 1946, Abound, and Slate & Stone. The variety covers relaxed fits, vintage washes, and performance fabrics. Sort by size, color, and price to match your preferences.
Beyond department stores, online retailers like ASOS and Zappos allow filtering by sleeve length, collar style, brand, and size to find that perfect henley. Returns are easy with free shipping and extended return windows.
Our Top Picks! 🔥
Brand Retailers
For a streamlined shopping experience, explore Henley collections directly from major brands. Labels like J.Crew, Banana Republic, and Club Monaco sell short and long sleeve options on their e-commerce sites.
Trying Henleys in-store allows you to nail downsizing and feel the fabrics in person. Or order multiple sizes/colors online to experiment risk-free. Return policies from brand sites are generally accommodating.
Whether you prefer browsing collections curated by retailers or want a focused brand experience, ample choices exist for sourcing quality short sleeve Henley shirts across different budgets and styles. Take advantage of features like size filtering to uncover your next favorite Henley.
Our Top Picks! 🔥
Measuring for the Perfect Henley Fit
While Henleys are designed to skim the body, getting the right size is still essential for comfort and style. When choosing a short sleeve Henley, carefully measure your arm length instead of just going by chest size. Here are some tips:
Have a friend measure from the center back of your neck, over the shoulder, and down your arm to your wrist bone. Round up to the nearest half or quarter inch.
Compare this length to the brand's size chart – many list sleeve lengths for each size. Allow a little extra room if between sizes.
Try on the Henley and lift your arms to ensure the sleeve seams don't pull at the shoulder. There should be no restrictive pinching in the arms and chest.
Opt for a slim or tailored fit, but size up if needed. Oversized Henleys lose their refined shape.
Getting the right sleeve length ensures your Henley hugs the arms without straining the shoulders or pulling across the chest. Allowing subtle ease through the body prevents a too-tight look. Dialing in the fit means your Henley looks sharp and feels like a second skin.
Next Steps: Time to Step Your Game
A short sleeve Henley shirt is one of the most versatile staples a man can add to his wardrobe. Its refined yet relaxed vibe seamlessly transitions from weekend wear to date night style. The partial placket and ribbed collar provide understated details that elevate a Henley above a basic tee.
Premium brands like Cuts, HNLY, Vuori, and Bronson highlighted here offer quality takes on this classic style. Whether you prefer an athletic cut, lived-in vintage appeal, or touches like curved hems and dropped shoulders, the Henley is a seasonless essential with looks to suit any guy's needs. Just don't forget to measure for the best fit.
With a short sleeve Henley or two in rotation, you'll always have a stylish, comfortable top ready for laidback and polished looks. This classic deserves a spot front and center in your warm-weather wardrobe.
FAQ
Are Henley shirts in style for men?
The Henley shirt is a timeless menswear staple offering an effortlessly cool look. Its versatility to dress up or down makes it a wardrobe essential.
Who makes the best Henley T-shirts?
Premium brands like Cuts Clothing, BYLT Basics, Vuori, HNLY, and Bronson featured in the article provide quality craftsmanship and innovative designs in their Henley shirts.
What is the purpose of a Henley shirt?
A Henley shirt bridges the gap between a basic tee and a polo or button-up shirt. Thanks to details like the partial placket and ribbed trim, it offers a relaxed yet refined look. The Henley can replace tees for casual outfits with its tailored cut.
What are Henley shirts called?
Henley shirts are named after the town of Henley-on-Thames, England. In the late 1800s, rowers wore sleeveless shirts with buttons down the front placket, which evolved into the Henley style.
Why do Henleys look so good?
Henleys offer a flattering fit that skims the body without being restrictive. Details like the placket and collar provide visual interest while the knit fabric remains comfortable. The simplicity and clean lines give Henley shirts universal appeal.
Are Henleys still in style?
Yes, Henley shirts remain a staple in men's fashion from decade to decade. Their vintage roots make them appealing across generations. Henleys can be dressed up or down seamlessly, ensuring they stay relevant in any era.
What are the key features of a Henley shirt?
The defining features of a Henley shirt include a partial button placket (usually 3-5 buttons), ribbed collar and sleeve cuffs, tailored fit, and curved or dropped hem. These details give it a more refined look compared to a basic tee.
How can you dress up a Henley shirt?
Henley shirts can be dressed up by pairing them with tailored trousers like chinos rather than casual denim. Add loafers or leather sneakers instead of gym shoes. Throw a blazer or fitted jacket over your Henley and keep accessories sleek.
What Henley shirt colors are most versatile?
Neutral Henley colors like black, white, gray, navy, and olive green offer maximum versatility. They easily pair with most pants, jeans, and jackets. Bold Henley colors work better as statement pieces within simple outfits.
Should you wear a Henley shirt untucked or tucked in?
Henley shirts are best worn untucked with jeans, joggers, shorts, or casual pants. Their straight hem is meant to be worn over the waistband. Tuck a Henley into chinos for a polished look, but avoid over-tucking.
How do you get a vintage look with a Henley?
Wide ribbed collars and cuffs, heavyweight cotton fabrics, imperfect patterns like heathered fabric, and relaxed fits evoke a vintage Henley style. Neutral colorways and pre-washing also lend that worn-in, vintage appeal.
What are the best shoes to pair with a Henley shirt?
Sneakers, boat shoes, loafers, and boots complement Henley shirts for casual looks. Lean into the laidback vibe with slip-on sandals or slides in summer. Avoid thoroughly dressy shoes like oxfords, which are too formal.