What to Wear: Men's Business casual attire for summer weddings
Key Takeaways 🤵🏽
Breezy fabrics are key for staying cool. Lightweight linens, cotton, and moisture-wicking blends allow airflow and feel crisp against the skin, even in the sweltering heat. Prioritize natural fibers over bulky synthetics that trap heat.
Structure your look around versatile core pieces. Build business casual outfits from foundations like tailored blazers, crisp button-downs, slim chinos, and simple dresses. Then layer on accents like cardigans, jewelry, and statement bags.
Opt for polished footwear to pull together your outfit. Loafers, oxfords, and leather sandals project sophistication. Avoid flimsy rubber flip-flops or embellished heels that sabotage the refined mood.
Accessorize thoughtfully with minimal flair. Stick to one or two eye-catching accessories like a printed scarf, woven bag, or vibrant watch. Too many loud additions compete rather than complement the look.
Dark, solid-wash denim works for business casual affairs. Swap out distressed or overly faded jeans for slim, dark washes to maintain polish. Just balance with refined layers on top and sleek footwear.
Schedule breaks to refresh your look throughout sweltering events. Rather than suffering for hours on end, build-in outfit changes between the ceremony, reception, and after-party. You'll stay comfortable and look dope.
Summertime is the wedding season for good reason. The sunny weather and long days provide the ideal backdrop for celebrating relationships. For grooms and guests alike, business casual attire is the key to looking sharp but comfortable. Say goodbye to suits and ties in favor of laidback refinement.
Evaluating the Dress Code
When deciding what to wear, consider the dress code and weather. A beachfront ceremony or "island chic" affair requires breezy fabrics, playful prints, and textures. More formal, traditional venues demand summer-weight linen, cotton, or seersucker suits. Look for clues in the invitation to find that perfect balance between relaxed and refined.
Once you've decoded the dress code, consider colors and patterns that speak to your style. Summer's vivid, bright, and bold graphics are the perfect palette for self-expression. Don't fear punchy hues or dynamic prints that showcase your individuality. Just opt for tailored silhouettes and lightweight fabrics to keep things breezy.
For a foolproof business casual foundation, reach for slim chinos in neutral tan, gray, stone, or white. They'll keep you both cool and polished. Pair them with leather loafers or oxfords and a short-sleeve collared shirt. Feel free to forgo the tie.
Or go for a summer-weight suit featuring exotic prints or seersucker fabrics. Vibrant colors and bold patterns will exude breezy sophistication. Just roll up the sleeves and leave the jacket open.
Consider spectator shoes or woven leather belts to add personality without overdoing it. And don't forget the finishing touches like pocket squares, lapel pins, or statement socks. They allow you to show off your flair.
Whatever you choose, aim for effortless polish over formality. Dress to impress while beating the heat in laidback refinement. With the right mix of casual ease and wedding-worthy style, you'll stay cool while celebrating the happy couple in style.
Shirts and Jackets for Summer Weddings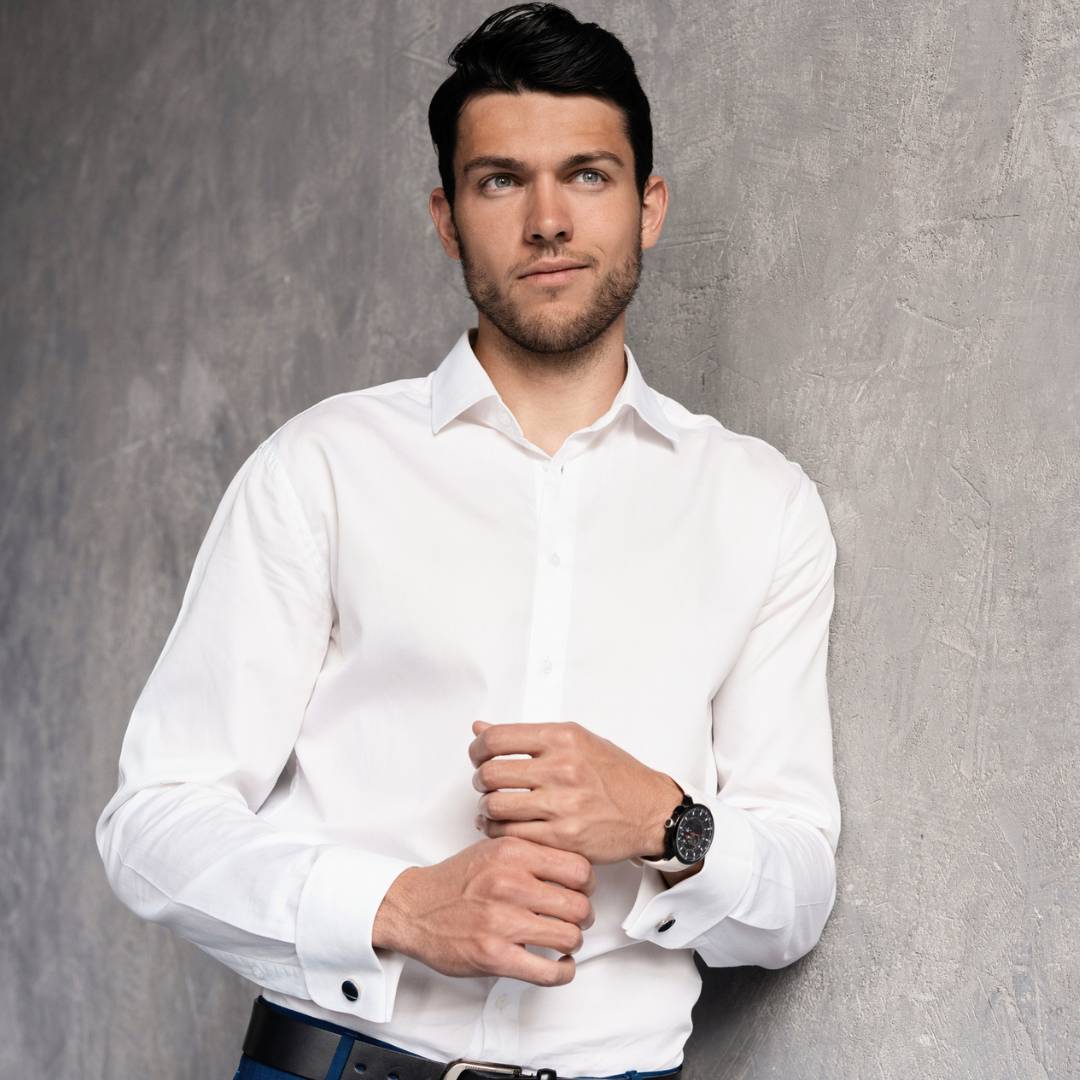 Summer weddings demand a balancing act. You want to look sharp yet beat the heat comfortably as a guest. The trick is the artful layering of breezy shirts and lightweight jackets. With mindful pairings and fabrics, you can assemble ensembles seamlessly, transitioning from ceremony to reception.
For black-tie affairs, a summer tuxedo sets the standard. Swap out the heavy wool pieces for lightweight builds in linen, chambray, or seersucker. They drape and breathe while maintaining sophistication. Opt for pastel shirts and jackets in ivory, blush, or sky shades for an inherent summer vibe. Accessorize with a colorful bow tie or pocket square. The resulting look emanates seasonal refinement.
The versatility emerges in the combinations. Mix and match elements like you're coordinating flavors in a refreshing summer cocktail. Relaxed chambray shirts feel crisp when layered under an unstructured cotton blazer. Neutral linen adds lightweight texture when paired with a casual sports jacket.
And don't forget the value of accessories. Statement watches, woven belts, and leather loafers or oxfords provide those finishing touches.
Ultimately, maintaining comfort hinges on fabrics. Prioritize natural breezy blends that feel crisp, not sticky. Tailored silhouettes polish up laidback cuts. The beauty resides in balance and breathability.
For destination affairs, linen serves as the MVP fabric. It drapes fluidly while maintaining structure. The resulting effortless sophistication works wonders in garden ceremonies and beach receptions alike. So artful layering transcends formality, whether you're outfitting a summer black-tie event or seaside soiree. Thoughtfully composed shirts and jackets keep you comfortable amid the celebrations under sunny skies. Beat the heat in sophistication with the perfect pairing.
Finding Your Best Fit: Slim vs. Regular Tuxedos for Formal Summer Weddings
Few menswear staples rival the sophistication of a well-cut tuxedo. For summer weddings and formal affairs, the tuxedo is timeless. But should you go slim fit or regular? The choice comes down to comfort, formality, and confidence.
Slim-fit tuxedos live up to their tailored name, sitting close to the body with narrow lapels and higher armholes. This creates an elongating silhouette optimized for black-tie affairs. The sleek lines complement slender frames, providing an inherently polished appearance.
For athletic builds, opt for the classic tailoring of regular-fit tuxedos. The extra room through the chest and waist allows for ease of movement, especially on the reception dance floor. While less formal than slim cuts, regular fits maintain versatility for formal and semi-formal events.
When deciding between the two styles, consider body type and occasion. Formal black-tie weddings and galas call for the sharp lines of slim-fit tuxes. But regular fits accommodate muscular builds while retaining comfort for long events.
And don't forget the power of color. Timeless black and white never fails. But summer weddings present the perfect chance to experiment with bolder dinner jackets. Try a vibrant cobalt or coral paired with crisp white pants. Just ensure the silhouette flatters.
In the end, fit and comfort trump all. The right tuxedo boosts confidence while allowing you to focus on the moment. Thoughtful tailoring and standout accents transform the tux into a reflection of your style. Whether slim or regular cut, you will look and feel your best.
Tips for Picking the Right Fabric
With countless fabric options, choosing the suitable textile for your project can be daunting. Keep these critical factors in mind when selecting fabric:
| Consideration | Identify the purpose to guide fabric selection |
| --- | --- |
| Consider the garment's end use | Identify purpose to guide fabric selection |
| Evaluate the climate | Choose a weight suitable for season |
| Assess care requirements | Consider the hand feel |
| Mind your budget | Quality fabrics cost more; adjust expectations if needed |
| Visualize the look | Select fabric that matches aesthetic vision |
| Consider the handfeel | Determine desired texture against skin |
| Assess drape and structure | Test drape before buying yards of fabric |
| Evaluate sewability | Match skill level to fabric's ease of sewing |
| Pre-wash fabrics | Preshrink to prevent mid-project distortion |
Selecting the perfect fabric for any garment requires careful consideration from start to finish. Before even browsing swatches, begin by visualizing the end goal. A flowing chiffon dress requires a different textile than a structured wool coat. Identify the garment's purpose and properties needed to support that use case. This critical first step narrows the focus of your search.
With the big picture in mind, start evaluating the specifics. Consider the climate the finished piece will live in. Lightweight cotton suit breezy summer creations, while thick insulating wools better withstand winter's chill. Choose a weight that aligns with the environment for optimal performance.
Also, assess the care requirements of different fabrics demands. Silks often mandate dry cleaning or meticulous hand washing. If you know you won't properly care for a textile, cross it off the list in favor of something low-maintenance. Don't set unrealistic expectations.
Another key consideration is budget. Quality textiles come at a price. You may need to compromise on fiber content or embellishments for budget-friendly projects without sacrificing construction. Well-executed seams still matter, even in simple fabrics.
Beyond the functional factors, don't forget the fun aesthetics. The hand feel, drape, sheen, and texture influence the look and experience of wearing the finished piece. Select a fabric that brings your creative vision to life through its unique properties.
You can identify the ideal textile for your next project by carefully weighing all these elements. Don't rush the selection process. Thoughtful consideration from start to finish ensures you choose the perfect fabric for both form and function.
Elevating Business Casual Wedding Style with Thoughtful Accessories
Accessorizing for business casual weddings requires walking a fine sartorial line. The key is balancing polish with personality through considered additions from head to toe. Arm yourself with purposeful accents that blend seamlessly into your outfit.
For summer affairs, lightweight layers set the tone. Trade stiff suits and ties for breezy linen tops and cropped bottoms. Strappy leather sandals elevate while remaining airy. And don't forget the statement sunnies to add attitude.
Come cooler months, bundle in warmth without sacrificing style. Cardigans and sweaters in rich hues add sophisticated coziness. Pair with leather gloves and knit scarves that provide both function and flair. Weatherproof boots ground the look on damp days.
Bags offer the opportunity for self-expression. Sculptural microbags continue trending for their hands-free functionality. Ensure hardware and embellishments align with the formal-casual vibe. Try an exotic embroidered pouch or woven leather clutch to add eye-catching texture.
And don't forget the power of accessories to polish off a look. Silk pocket squares, as do pearl earrings and statement cufflinks, lend refined elegance. Don't be afraid to have fun with socks and ties, mixing colors and patterns that reflect your personality.
But perhaps most critical are the shoes. Footwear can make or break business casual style. Skip flimsy flats and clunky sneakers for hard-soled oxfords, loafers, or heeled sandals. Let the shoes pull the look together.
With artful layering and accent pieces, you're sure to craft business casual wedding looks that seamlessly transition from ceremony to reception. Arm yourself with accessories that blend polish and personal flair for a sophisticated style.
What Shoes to Wear to a Summer Wedding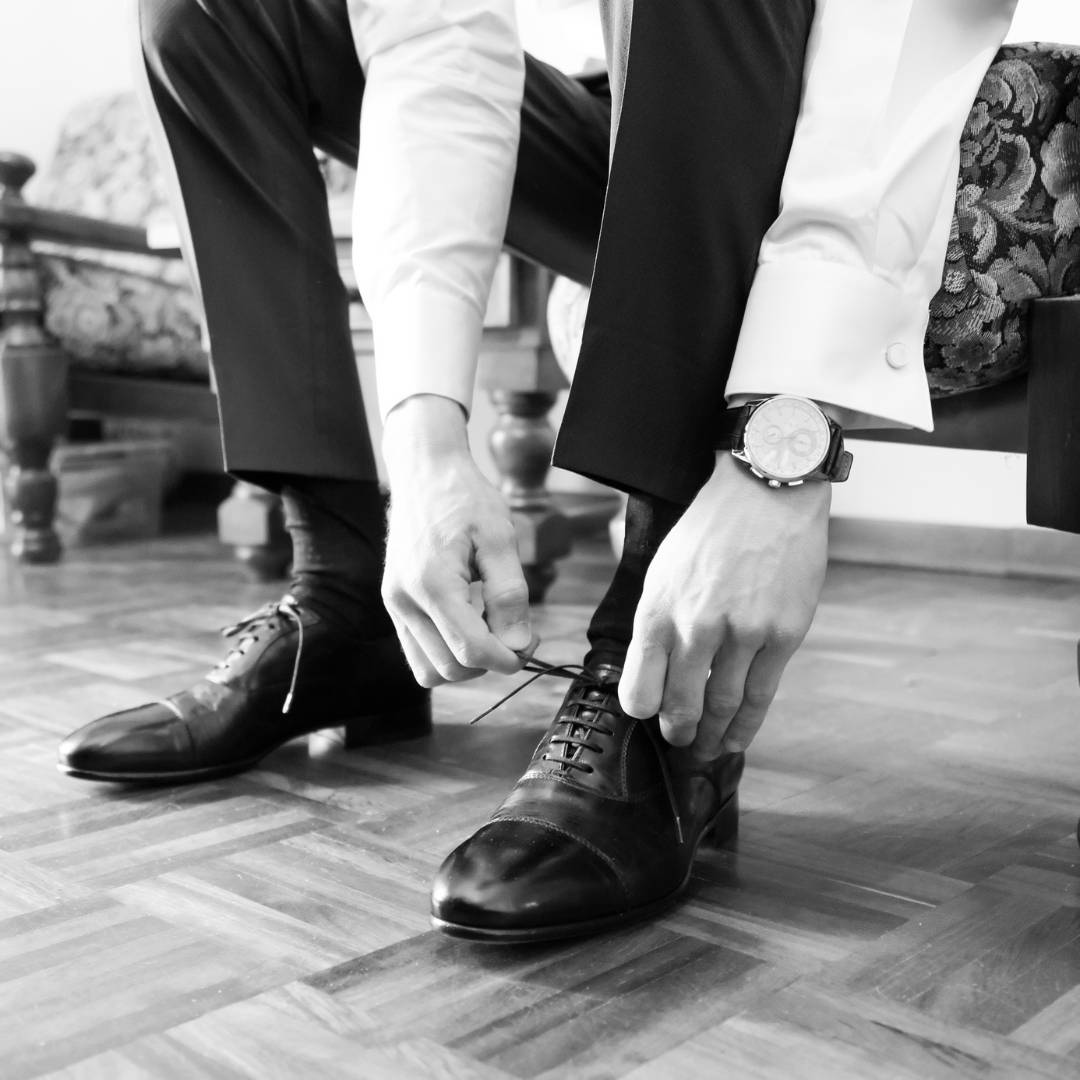 When prepping your summer wedding ensemble, don't forget about your footwear! Shoes complete your look from head to toe. For warm-weather nuptials, strike the ideal balance between formal refinement and seasonal breeziness with your kicks.
Start by considering the venue and attire. Beachfront ceremonies call for polished sandals that won't sink in the sand. Opt for strappy leather versions over flimsy rubber flip-flops. Country club receptions demand more refined oxfords, loafers, or heeled pumps that complement your palette.
The fabric also determines footwear. Lightweight linen and seersucker suits pair perfectly with two-toned brogues or spectator shoes. The perforations allow airflow, keeping your feet cool.
Don't sacrifice comfort, either. As a guest, you'll be on your feet for hours, dancing and mingling. As a wedding party member, slipping shoes allows you to glide down the aisle confidently. Break in leather soles before the big day.
Customize your kicks to showcase your personality. Metallic leather slingbacks make a statement. Colorful laces and designer loafers reflect personal flair. Monogrammed insoles or custom clips add thoughtful details.
From beach to ballroom, keep silhouettes streamlined and fabrics lightweight. With polished sandals, textured brogues, or timeless pumps, you'll craft an ensemble that seamlessly transitions from ceremony to reception in sophistication.
The Right Fit For Business Casual Wedding Attire
Navigating business casual dress codes, especially for weddings, can be tricky. The key is blending polished pieces with laidback refinement. Follow these tips for assembling the perfect biz-cas wedding look:
For men, start with a lightweight suit or sport coat paired with dress pants or chinos. Skip the tie and opt for a collared breezy linen or cotton shirt. Long sleeves prevent overheating. Coordinate colors with the wedding party's palette.
Add seasonal hues like ivory, blush, and light blue in warmer months. Neutral solids help anchor busier prints. And don't forget tailored shorts and cropped-leg pants for a more laidback take on business casual. Just ensure the overall silhouette remains streamlined and fabrics wrinkle-free.
When accessorizing, opt for simple yet sophisticated accents. Statement necklaces, embroidered flats, and colorful watches add personality without distraction. Keep bags and shoes leather for a refined touch. And don't forget the sunglasses!
The beauty of business casual lies in the creative combinations. With thoughtful layering and breathable fabrics, you're sure to nail a wedding look that seamlessly transitions from ceremony to reception in sophistication.
Keeping Your Cool: Mastering Summer Style in Sweltering Weather
The dog days of summer present a stylistic challenge. Soaring temperatures and oppressive humidity can wilt your look along with your mood. But with careful preparation, you can maintain your sophisticated edge amid the heat. Follow these tips to conquer hot and humid conditions in style.
Breezy, lightweight fabrics are your cool weather allies. Loose linen tops and cropped pants allow airflow while remaining polished. Leave thick denim behind in favor of white or light-wash jeans for a crisp look that breathes. And don't forget about chambray – the lightweight material keeps you cool in both shirts and bottoms.
Look to natural fibers like linen, cotton, and seersucker that feel crisp and dry. Avoid bulky polyesters that trap heat and turn sticky. For more active summer occasions, moisture-wicking athletic blends can be a lifesaver. Just maintain a streamlined silhouette for balance.
Accessories also require weather-appropriate adjustment. Skip embellished bags, bangle bracelets, and bold jewelry that stick to sweaty skin. Opt for sleek leather belts or metal watch straps that won't chafe. And don't forget the hats and shades to keep sun exposure in check.
Proper hydration provides the foundation to stay cool under pressure. Reach for electrolyte-infused waters and juices over sugary cocktails. The natural hydration keeps energy levels stable. Schedule outdoor activities during cooler times of the day when possible, and don't be afraid to seek shade.
With breathable fabrics, strategic layering, and sensible sun safety, you can master sophisticated style amid summer's sweltering conditions. You don't have to lose your fashion edge even on the hottest days.
Putting Together a Business Casual Attire Wedding Lookbook
Assembling a versatile business casual attire starts with curating key foundation pieces. Build outfits around these staples for endless polished combinations:
Airy linens and breezy chambray shirts offer a refined take on casual tops. Tuck into trousers to instantly elevate the look.
Printed blouses and tops add personality when layered under neutral blazers. The tailored silhouette keeps things pulled together.
Dark-wash jeans maintain sophistication when paired with blazers, sweaters, and blouses. Opt for slim cuts and avoid distressing.
Tailored shorts and cropped pants polish up casual button-downs. Add a statement belt at the waistline for an accent.
Lightweight knit cardigans provide a cozy yet professional layer over sleeveless dresses or camis. Choose streamlined shapes.
Structured totes, colorful flats, and minimalist jewelry make thoughtful finishing touches without going over the top.
The beauty of business casual lies in the creative combinations. Build upon timeless staples that function across seasons to cultivate a collection that transitions effortlessly from desk to dinner.
Decoding Business Casual Style for Summer Weddings
Approaching business casual dress codes for summer weddings requires both strategy and creativity. Like solving a sartorial puzzle, you must uncover clues to nail the enigmatic yet essential balance between polished and relaxed. Follow this guide to curate looks seamlessly, bridging the wedding and workplace wardrobe.
Fabrics provide the first tell. Lightweight linens, breathable cotton, and subtly textured chambrays should dominate over their heavier, hotter counterparts. Their breezy drape whispers office-appropriate refinement. Save thick, casual denim for weekend wear.
Tops in neutral solids or subtle prints allow statement accessories to shine without competing. Seek balance in bold jewelry, bags, and shoes so that nothing distracts from the sophisticated mood. Avoid tops or dresses with loud patterns that detract rather than elevate.
Silhouettes tell a story. Billowy cuts and slouchy fits skew too laidback for ceremonies and receptions. Maintain a tailored, streamlined shape for poised polish. Structured blazers, crisp button-downs, and fitted dresses align with the venue's formality.
Denim deserves delicacy. Dark washes easily elevate when paired with proper footwear and layers. But threadbare detailing and exaggerated fading create a disconnect. Save your distressed favorite pair for casual Friday back at the office.
And never sacrifice comfort, especially footwear. Painful blisters from embellished sandals or flimsy flats ruin the experience. Seek out supple leather pumps or strappy sandals with supportive soles and structure. They lend refined polish you can actually dance the night away in.
For summer weddings, men's business casual attire means artfully blending casual and formal accents with balance, and you unlock the code to effortless business casual style. Breezy fabrics, tailored fits, and thoughtful finishing touches help craft looks that transition smoothly from "I do's" to receptions. You've cracked the sartorial puzzle.
FAQ
What types of business casual attire are appropriate for summer weddings?
Lightweight fabrics like linen, cotton, and seersucker that provide a refined yet relaxed look are ideal for warm-weather weddings. Tailored silhouettes in breezy, neutral solids or subtle prints strike the right balance.
How can men style business casual attire for a summer wedding?
Opt for an unstructured cotton blazer with dress pants or chinos and a collared linen shirt. Coordinate colors with the wedding party and skip the tie. Add polished loafers or oxfords and minimal accessories.
What shoes work best for business casual wedding attire?
Leather oxfords, loafers, and lace-up brogues are refined options. For women, choose structured leather pumps, strappy sandals, or block-heeled mules. Avoid flimsy rubber footwear.
Should you wear a full suit to a business casual summer wedding?
It depends on the formality. Lightweight seersucker or linen suits work well, styled with a breezy shirt and fun accessories. But formal wool suits skew too formal. Opt for a blazer and slacks instead.
How can you stay cool at an outdoor summer wedding?
Lightweight, breathable natural fabrics like linen and cotton allow airflow. Avoid bulky materials that trap heat. Stay hydrated and seek shade when possible. Accessorize minimally.
What jewelry and accessories work for business casual weddings?
Minimal jewelry like solitaire earrings and simple necklaces keep the look refined. Leather bags, belts, and shoes add polish. Statement sunglasses or hats protect from the sun.
Should you avoid jeans altogether for business casual weddings?
Not necessarily. Dark-wash, tailored jeans sans distressing can work when balanced with blazers, nice shoes, and elevated tops. The key is an overall pulled-together look.
How can women style business casual dresses or skirts for weddings?
Opt for knee-length hemlines in breezy cotton or linens. Pair with a structured blazer and minimalist sandals or pumps. Add a straw bag and jewelry for accent touches.
What casual pieces don't work for business casual wedding attire?
Flip flops, tennis shoes, tank tops, shorts, distressed denim, loud prints, and oversized cuts make the look too laidback. Overdressing in a full suit is also too formal.
How can you ensure business casual comfort at weddings?
Choose lightweight, breathable fabrics. Break in leather shoes beforehand. accessorize minimally to avoid chafing. Stay hydrated and seek shade when possible. Schedule outfit changes between events