Summer Style For Men: Stay Cool With Dopest Fashion Trends
The Best of Men's Summer Styles and Fashion
As the summer heat intensifies, it's time for men to revamp their wardrobes and embrace a fresh wave of style. Picture yourself strolling along sun-kissed beaches, attending rooftop soirées, or simply savoring the vibrant energy of the season. Now, imagine doing all of that with an impeccable sense of fashion that turns heads and exudes confidence.
Look no further, because we've curated a compelling guide that will ignite your summer style game and have you radiating with swag. From laid-back essentials to bold statement pieces, get ready to unlock a world of sartorial possibilities that will leave you feeling relaxed, sophisticated, and ready to conquer the summer scene. So, gentlemen, prepare to soak up the sun in style as we unveil the ultimate summer fashion secrets exclusively for you.
Key Takeaways
Bold prints and vibrant colors are in fashion for the Summer 2023 season.
Lightweight fabrics like cotton, linen, or rayon are ideal for staying cool in the heat while remaining fashionable.
Versatile shorts made of breathable materials and comfortable sneakers are essential summer wardrobe items.
Optimal color coordination is key to creating a cohesive look when mixing and matching summer styles for men.
Top Trends And Outfits that Compliment Summer Style for Men
This year, bold prints, vibrant colors, and lightweight fabrics dominate men's summer fashion trends. Trust me.
Bold Prints And Colors to Keep You Looking Stylish
Summer 2023 is about making a statement with bold prints and colors for men's fashion. Gone are the days when summer style for men was limited to basic neutrals; this year, it's time to embrace vibrant hues like electric blue, fiery red, and energetic yellow.
Spice up your wardrobe by incorporating unique patterns such as geometric shapes, abstract art, and even animal prints into your outfits. These eye-catching designs can take an otherwise simple piece of clothing to another level of sophistication and intrigue.
For example, consider pairing a bright-colored printed shirt with some neutral shorts for that perfect balance between daring style and comfortable functionality that will keep heads turning on those hot summer days.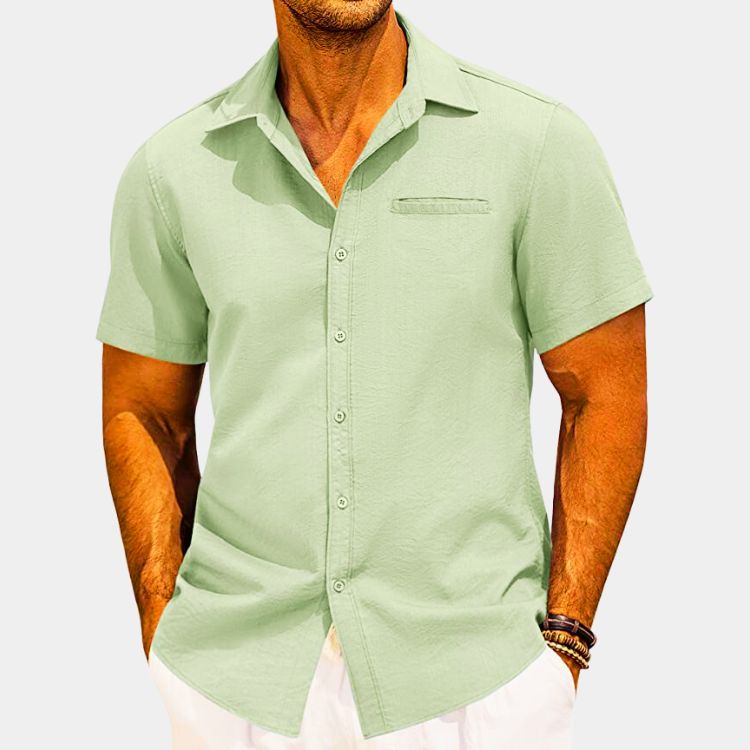 Mens Linen Short Sleeve Button Down Shirt

Experience the perfect blend of comfort and style with our Men's Casual Linen Shirt. Crafted from premium fabric, this short-sleeve button-down shirt is soft, lightweight, and breathable, making it ideal for hot summer days. The shirt features a classic design with a turn-down collar, button-down closure, and a solid color scheme, complemented by a practical chest pocket.
Florals And Tropical Prints Are Summer Style Essentials
Florals and tropical prints continue to shine as a summer clothing staple for men, adding a vibrant splash of color to any wardrobe. These patterns have evolved beyond the stereotypical "Hawaiian shirt" into designs suitable for various occasions and personal styles.
On the other hand, bold tropical-themed patterns featuring palm trees, exotic birds, and various plant life can make quite the statement at an outdoor party or weekend getaway.
You may even choose these eye-catching prints in lightweight jackets or short-sleeved shirts to bring beachside flair to casual date nights.
Nautica Printed Short-Sleeve Shirt

The Nautica Men's Sustainably Crafted Printed Short-Sleeve Shirt is a perfect blend of style and sustainability. Made from a unique blend of 62% cotton, 36% TENCEL™ Lyocell, and 2% elastane, this shirt offers a comfortable fit and a soft feel. The shirt features a classic floral print that adds a touch of elegance to your casual wear. The button-down collar and button closure provide a neat and polished look.
Shorts And Swimwear for the Warm-Weather
Summertime calls for an embrace of shorts and swimwear, essential to every man's summer wardrobe. With the heat and humidity in full swing, it's crucial to choose the right styles that are both comfortable and fashionable.
Regarding swimwear, consider making a splash with bold prints, vibrant colors, or timeless solids that complement your style. Stay clear from heavy materials; instead, invest in lightweight fabrics like quick-dry nylon or polyester blends to remain comfortable when going from poolside lounging to grabbing lunch at the beach bar.
Hurley Men's Phantom Patriot Board Shorts

The Hurley Men's Phantom Patriot Cheers 20″ Board Shorts are designed for comfort and style. Made from a lightweight, quick-drying fabric blend of 92% polyester and 8% spandex, these shorts offer a regular fit and a longer length for increased coverage, making the transition from water to sand seamless. They feature a straight hem, a practical patch pocket, and an EZ fly closure for convenience.
Lightweight Fabrics Are a Summer Staple
It's important to wear lightweight fabrics during a casual summer to keep you cool and comfortable in the heat. Opt for breathable cotton, linen, or rayon for tops and bottoms.
Regarding shirts, consider a lightweight button-up with short sleeves or a loose-fitting t-shirt made of cotton or modal. For pants or chino shorts, choose light denim or linen blends.
Opting for lightweight fabrics is key to staying comfortable even when temperatures soar during the dog days of a great summer.
Men's Linen Shorts With Elastic Waist Drawstring

Experience ultimate comfort with these Men's Linen Shorts, crafted from a high-quality, skin-friendly linen fabric that's lightweight and breathable. These shorts feature an elastic waistband with an adjustable internal drawstring for a custom fit and are equipped with two front pockets and a back pocket for practicality. Perfect for various occasions, you can pair these shorts with a tank top for a day at the beach or with a shirt and casual shoes for everyday wear.
Look Better With Athletic And Sportswear-Inspired Styles
Looking for a comfortable yet stylish summer outfit? Look no further than athletic and sportswear-inspired styles. These athleisure wear outfits are perfect for those casual days out and about or just lounging at home.
Think jogger pants paired with graphic t-shirts, tank tops, or track jackets over shorts.
Not only do these outfits look cool, but they are also designed to help keep you cool in hot weather, thanks to moisture-wicking materials that help regulate sweat.
Soothfeel Men's Slime-Fit Joggers Pants

The Soothfeel Men's Golf Joggers blend style and functionality perfectly. Made from a comfortable and breathable blend of 82% polyester and 18% spandex, these pants feature a 4-way stretch fabric that wicks moisture away, keeping you comfortable all day. The design includes five pockets: two deep front pockets for easy access to essentials, two back pockets for storing golf gloves or scorecards, and a zippered pocket for securing your phone or wallet.
Linen Clothing Rocks Summer Styles
Linen clothing is a must-have for any man during the hot summer months. Linen fabric is lightweight, breathable, and comfortable, perfect for staying cool in the heat.
Not only that but linen also has a unique texture and look that adds an extra touch of style to any outfit.
Opting for linen clothing can be an excellent way to upgrade your summer wardrobe without sacrificing comfort. Whether you're headed to work or out on a casual weekend excursion, linen clothes offer versatility and functionality without compromising fashion trends.
Essential Summer Outfit For Men
Summer is here, and it's time to update your wardrobe! To make sure you're prepared for the heat, here are three must-have summer essentials for men:
Lightweight Button-Down Shirts – These shirts are perfect for dressing up or down in the summer. Choose a breathable cotton fabric that keeps you cool while still looking stylish. Experiment with patterns like stripes or florals to add personality to your outfit.
Versatile Shorts – It's essential to have a few pairs of shorts that can take you from a day at the beach to a casual lunch with friends. Look for shorts made of lightweight fabrics like linen or chambray. Neutral colors like khaki or navy are always a safe bet, but don't be afraid to try bolder colors too!
Comfortable Sneakers – Summer is all about being on the go, so having a pair of comfortable sneakers is crucial. Opt for sneakers made with breathable materials and cushioned soles to keep your feet fresh all day. White sneakers are versatile and can easily be paired with any outfit.
With these three essentials in your wardrobe, you'll be ready to take on anything the summer throws you!
Look Stylish And Comfortable All Summer Long
Summer wouldn't be complete without a trip to the beach, and plenty of stylish beachwear options for men are available. To stay comfortable throughout the day, consider wearing lightweight linen or cotton clothing that will keep you cool even when temperatures rise.
When choosing colors and patterns for your beachwear, choose fun prints such as stripes or tropical designs that add personality to your look. White t-shirts or tank tops can also go well with patterned swimwear while providing protection from the sun. Sandals are often ideal since they're breathable and easily slip on and off.
Men's Shorts: Stay Cool And On-Trend This Summer
Summer shorts are a staple in every man's wardrobe, and finding the perfect pair that will keep you cool and on-trend this summer can be challenging. There are plenty of options for men when it comes to choosing the right shorts for the season.
There is no shortage of variety, from cargo shorts to chino, denim, or Bermuda shorts.
One popular trend in men's fashion is above-the-knee shorts with bold prints, florals, or patterns. Men who want to make a statement with their fashion choices can opt for some printed denim cutoffs paired with a plain tee shirt or dress shirt tucked into them.
When selecting shoes that complement these fashionable summer outfits perfectly, loafers are definitely at the top of our list, followed by canvas sneakers which add versatility across different occasions, from casual hangouts during daytime fun activities to dinner plans under night lights.
How To Mix And Match Summer Styles for Men
Experiment with optimal color coordination tips and accessorize for the season.
Optimal Color Coordination Tips
When it comes to summer dressing, you want to make sure your wardrobe has a mix of colors that complement each other well. Optimal color coordination is essential for creating a cohesive look and feeling confident in what you're wearing.
Start by choosing one statement piece, like a printed shirt or bold pair of shorts, and build your outfit around it with complementary shades. For example, if you have a floral shirt with bright colors like pink and green, pair it with neutral bottoms such as beige or white shorts.
It's also important to pay attention to the materials of the clothes you wear during summer. Light colors reflect sunlight, while dark colors attract heat, making them unsuitable for summer days when the temperature is high.
Stick with lightweight fabrics such as cotton or linen that are breathable and moisture-wicking, ideal for keeping cool in hot weather while still being fashionably coordinated.
Accessorizing For The Season
Accessorizing is a crucial part of every summer outfit for men. Choosing the right accessories can elevate any look, adding style and flair.
When it comes to sunglasses, opt for a classic pair that complements your face shape and personal style. Look for UV protection to protect your eyes from harmful sun rays.
A stylish hat shields you from the sun and adds an edgy touch to your outfit. Bracelets are another excellent accessory choice in the summer; they add some interest without overwhelming the overall look.
Shoes And Sandals
When it comes to summer footwear, comfort and style are key. Men can opt for sandals or shoes that offer breathability and support to avoid sweaty feet.
Sandals are also a great option for men during summer as they provide air circulation around the feet, keeping them sweat-free. Flip flops may be convenient but look for slides that offer arch support and cushioning instead.
Expert advice suggests investing in versatile summer shoes like boat shoes, espadrilles, and loafers that can easily transition from casual daywear to evening events.
Summer Hairstyles For Men
Summer is a great time to experiment with new hairstyles! For men, shorter haircuts are generally preferred in summer as they offer better ventilation and reduce the potential for sweat.
One popular trend is the classic crew cut, which can be elevated using different textures and lengths on top.If you're having trouble deciding on a hairstyle this summer, consider your face shape and hair type. A good barber can recommend the best options based on these factors.
Don't forget to protect your hair from sun damage by wearing hats or applying leave-in conditioners infused with UV protection.
Men's Summer Style For Different Occasions
From beach days to date nights, outdoor parties, work outfits, and casual weekend look – we've got you covered! Discover the best summer fashion trends to make you look stylish regardless of the occasion.
Beach Days
Heading to the beach requires more than just shorts and a T-shirt. When it comes to beach attire that's both stylish and practical, there are some key items every man should have in their wardrobe.
Opt for lightweight linen shirts, breathable cotton tees, or tropical printed short-sleeve button-downs for an effortless yet put-together look. Don't forget about swimwear – choose board shorts or swim trunks with bold prints or vibrant colors to show off your style.
Protect your feet from hot sand with comfortable flip-flops or slip-on sandals. Take advantage of these essential tips on tackling men's summer styles in fashion during this year's hottest season.
Date Nights
Date nights can be tricky, especially when it comes to dressing up for the occasion in the summer. You want to look stylish and comfortable at the same time. Opt for a linen shirt paired with chinos or khakis for a more formal event.
Accessorizing is key! A simple watch or bracelet can add personality to your outfit without going overboard. Don't forget about shoes too! A pair of loafers or canvas sneakers will complete your look perfectly. It's important to choose breathable fabrics suitable for hot weather, like cotton and linen, to stay cool throughout the evening.
Outdoor Parties
Outdoor parties are perfect for showcasing your summer style while enjoying the warm weather. Dressing up for these events can be challenging, but you'll stand out from the crowd with the right outfit.
Opt for light, comfortable clothing such as shorts and linen shirts in bright summery colors for casual outdoor gatherings like BBQs or picnics. Pair them with boat shoes or loafers to keep things breezy.
If you're going to a slightly formal outdoor event like a wedding reception or cocktail party, choose lighter shades of suits instead of darker ones as they absorb less heat.
A tailored white suit paired with brown leather dress shoes is an excellent option that exudes confidence yet still looks relaxed enough for an outdoor occasion.
Incorporating summer fashion trends like bold prints or tropical themes into your outfits can help elevate your style game while keeping it fresh and on-trend during outdoor parties.
Work Outfits
When it comes to work outfits in the summer, comfort is key. It's important to choose clothing that will keep you cool and professional at the same time. Opt for lightweight fabrics like cotton or linen for your shirts and trousers.
It's also important to consider footwear when dressing for work in the summer heat. Breathable shoes like loafers or canvas sneakers can keep your feet fresh throughout the day.
And don't forget about accessories – a stylish black watch or sunglasses can add personality to your outfit while protecting you from the sun's rays.
Casual Weekend Looks
Weekends are a time for relaxation and fun; men can still look stylish while feeling comfortable. Opting for casual outfits that exude coolness is the perfect way to strike a balance during the summer season.
A classic graphic t-shirt paired with shorts or chinos works wonders on a warm weekend.
Accessories are important in completing any outfit, and weekends are no exception. For example, a woven belt adds texture and color to casual Friday looks, while sunglasses provide style and protection from the sun's rays when hitting outdoor concerts or festivals during summer.
Skin-care And Grooming Tips For The Summer Season
Learn how to protect your skin from the sun and stay groomed in the summer with expert tips on sunscreen, moisturizing techniques, choosing the right accessories, and summer fragrances for men.
Importance Of Sunscreen
Applying sunscreen is one of the most crucial aspects of maintaining healthy skin during the summer. With excessive exposure to UV rays, you're at risk of developing sunburn or, worse, skin cancer.
A reliable sunscreen with an SPF level of 30-50 can protect your skin against sun damage. Applying sunscreen every two hours outdoors and immediately after swimming or sweating profusely is advisable.
To make incorporating sunscreen into your daily routine easier, consider purchasing a moisturizer or aftershave containing SPF protection.
Moisturizing Techniques
During summer, your skin can become dehydrated due to the heat and sun exposure. That's why moisturizing is essential to any man's grooming routine this season.
To keep your skin hydrated, it's important to use a lightweight moisturizer that doesn't feel heavy on the skin or clog pores. See our review on Disco Eye Stick for men, which could be an option.
Another way to boost your moisture levels is to switch out your regular body wash for a hydrating one. Products with added oils and shea butter work wonders in locking in moisture, making you feel great all day. Using these simple techniques, you can maintain healthy and hydrated skin throughout the summer while enjoying outdoor activities under the sun.
Choosing The Right Accessories
Accessorizing is an essential part of men's summer fashion that should not be overlooked. The right accessories can elevate your style and complement your outfit perfectly.
A colorful baseball cap can add fun color to any outfit while shielding you from the sun's harsh rays. Sunglasses are also a must-have summer accessory to look stylish and protect your eyes from harmful UV rays.
A versatile watch with a rubber or nylon strap will complete any business casual outfit while being sturdy enough to withstand outdoor activities at the beach or park.
Summer Fragrances For Men
Picking the perfect summer fragrance for men can be a challenging task. However, it's important to note that you should always switch things up a bit during the warmer months.
In line with this, experts suggest refreshing scents like citrus or aquatic aromas, which are perfect for summer days.
One of the most popular fragrances for men in the summertime is Acqua Di Gio by Giorgio Armani, which boasts various woody notes and bergamot that evoke memories of Italian coastal towns.
Another great option is Bleu de Chanel which has become increasingly popular due to its unique scent combination – spicy, fruity, and aromatic at once.
Summer Style for Men On A Budget
Learn how to maximize your summer wardrobe without breaking the bank by shopping at sales and clearance racks, investing in versatile pieces, and exploring secondhand and thrift stores.
Shop Sales And Clearance Racks
Building a summer wardrobe can be expensive, but there are ways to cut down on costs without sacrificing style. Shopping sales and clearance racks can help you find great deals on trendy clothes that fit your budget.
Look out for end-of-season sales at your favorite stores or online for exclusive discounts. Shopping at thrift stores or consignment shops is also an excellent option to save money while keeping up with the latest fashion trends. You can always find some gems at TJ Max or Marshalls.
Invest In Versatile Pieces
Investing in versatile pieces is critical when building a summer wardrobe on a budget. Versatile pieces can be worn in multiple ways and for different occasions.
For example, a plain white t-shirt can be dressed in a blazer for date night or worn casually with shorts at the beach.
Another example of versatile summer clothes includes neutral-colored shorts that can go well with any colorful shirt. These outfits make dressing up for different events less stressful as they leave room to play around with accessories such as hats or sunglasses.
Shop At Secondhand And Thrift Stores
Looking for a budget-friendly way to upgrade your summer wardrobe? Consider shopping at secondhand and thrift stores! Not only will you save money, but you can also find unique pieces that no one else will have.
Plus, shopping sustainably is better for the environment. Look for versatile items like cotton shirts or denim shorts that can be paired with different outfits. Don't shy away from trying something new – you might surprise yourself with what you can find.
You never know what treasures you'll uncover! And if sustainability is important to you, buying used clothing is an eco-friendly choice that helps reduce textile waste.
DIY Fashion
Looking stylish and fashionable doesn't have to break the bank, especially during summer. One of the best ways for men to keep their wardrobes updated and on-trend is by embracing DIY fashion.
Creating your clothes or revamping them with simple alterations can save you money while allowing you to express your style.
Some easy DIY fashion projects for summer include making your tie-dye t-shirts or shorts using a kit from a local craft store. You could also try cutting off an old pair of jeans into shorts or adding patches to denim jackets for a unique look.
Upcycling Old Clothes
Upcycling old clothes is the perfect solution for building a summer wardrobe on a budget. Not only does it save money, but it's also an eco-friendly way to refresh your wardrobe.
Upcycling means transforming unwanted or unused clothing items into something new and trendy that fits your style.
With upcycling, there are no rules – you can get as creative as you like! Repurposing old clothes not only saves money but also helps reduce waste in landfills, making it a win-win situation for your wallet and the environment.
The Last Word on Men's Summer Style
In conclusion, summer style for men doesn't have to be a nightmare. Men can look stylish and comfortable all summer with the right outfit choices, grooming tips, and accessorizing techniques.
From athletic wear to linen clothing and swimwear styles, plenty of options are available to upgrade your wardrobe this season. Follow our guide's advice on mixing and matching outfits, choosing versatile pieces that won't break the bank, and embracing bold prints and colors for a fresh look.
FAQs
What are some popular summer fashion trends for men in 2023?
Some of the top summer fashion trends for men in 2023 include lightweight linen shirts, short-sleeve button-up shirts with bold prints, tailored shorts in vibrant colors or patterns, and retro-style sunglasses.
How can I stay cool in the heat while still looking fashionable?
Some of the top summer fashion trends for men in 2023 include lightweight linen shirts, short-sleeve button-up shirts with bold prints, tailored shorts in vibrant colors or patterns, and retro-style sunglasses.
Can I still wear jeans during the summer months?
Jeans can be worn year-round but may not be the most practical choice during hot weather. If you want to wear denim during summertime, look for lightweight options with a looser fit that allow airflows, such as denim cutoffs or relaxed-fit straight-leg jeans.
Are sandals an acceptable footwear option for men during summer?
Sandals are a great footwear choice for men during warmer months as they keep feet cool and provide casual style options that work well with many outfits. However, choosing appropriate sandal styles for each occasion is essential – flip-flops might be acceptable at the beach but may not be suitable when attending more formal events or meetings.