Elevate Your Style: Business Casual Clothing for Men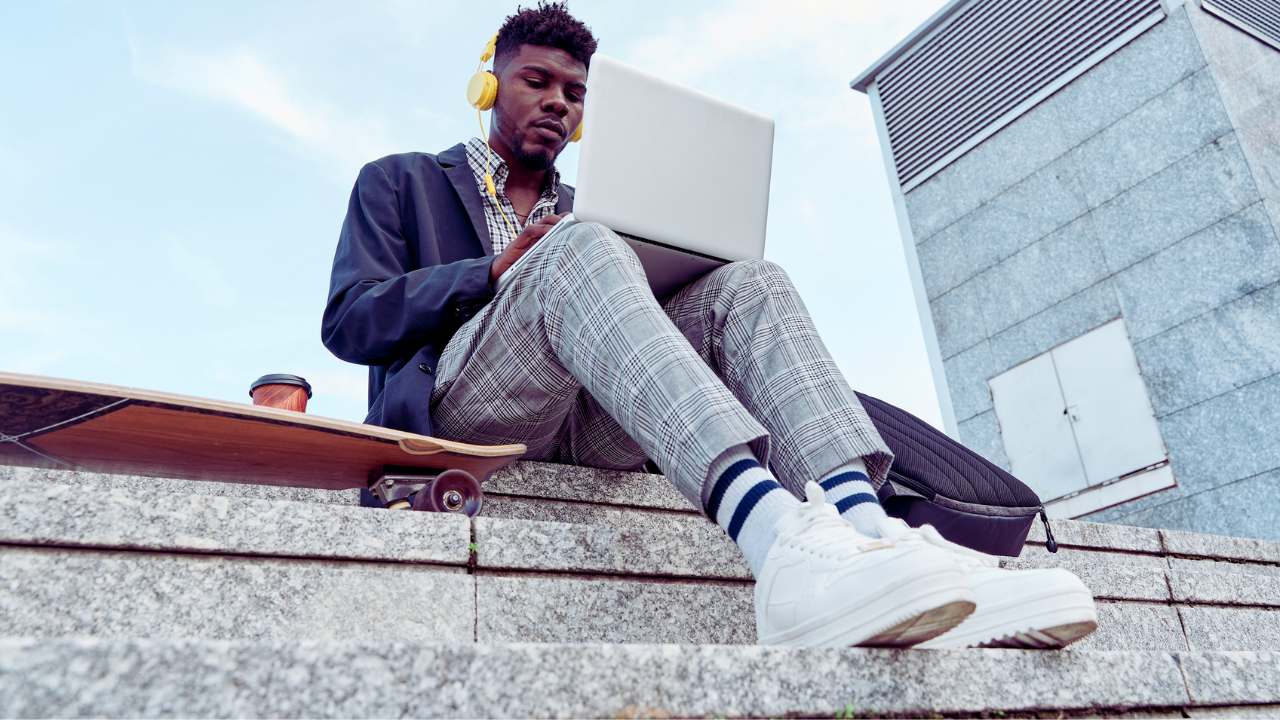 It's time to master the art of business casual.
Alright, fellas, let's talk business casual clothing for men. It's the sweet spot where style meets professionalism, allowing you to express your individuality while still looking sharp and put together. Whether you're gearing up for a job interview or aiming to elevate your daily office attire, we've got your back. Get ready to unlock the secrets of the best business casual clothes for men and turn heads in the corporate jungle.
What is Business Casual Clothing for Men?
Let's get down to the basics and unravel the mystery of what the business casual dress code means for us gents. Picture this: it's like walking a tightrope between a full-on suit and the laid-back vibes of casual Fridays. Business casual clothing for men is all about blending the best of both worlds – a fusion of traditional business attire with relaxed comfort.
Imagine rocking tailored trousers, chinos, or dress pants that fit you like a dream. Pair them with a button-down shirt that shows off your style or a classic polo shirt for a casual edge. Here's the kicker – leave that tie hanging in your closet, my friend. But don't forget to add a touch of finesse with a sleek belt and a stylish watch.
Oh, and when it comes to footwear, opt for leather shoes or loafers to add that touch of sophistication to your ensemble. It's all about finding that sweet spot, that perfect balance between looking professional and feeling laid-back.
Unleashing Your Signature Business Casual Style
Let's dive into the world of business casual fashion for men and explore the different styles that can make you stand out from the crowd. Remember, business casual dress codes, the key here is finding a style that speaks to your unique personality while maintaining a professional image. So, let's explore some trendy business casual styles that will have you looking fresh and stylish:
Timeless Sophistication
If you're a fan of timeless elegance, this style is for you. Opt for well-tailored dress pants in classic colors like navy, charcoal, or khaki. Pair them with a crisp button-down shirt in a solid color or a subtle pattern. To add that touch of class, throw on a tailored blazer and rock it confidently. Complete the look with a pair of polished leather shoes. This style exudes sophistication and is perfect for making a lasting impression in formal office settings or important client meetings.
Smart-Casual Swagger
If you're all about that modern and suave vibe, smart-casual business attire is where it's at. Start with slim-cut chinos or trousers in various colors like olive, burgundy, or light gray. Pair them with a button-down shirt in a complementary color or a pattern that shows off your personality. Ditch the blazer and opt for a stylish knit men's quarter zip sweater or a tailored vest. Finish off the look with leather loafers or suede derby shoes. This versatile style works like a charm in creative or relaxed office environments.
Preppy Perfection
If you're a fan of polished and preppy vibes, this style will have you looking like a true gentleman. Rock flat-front khaki pants or chinos paired with a classic Oxford button-down shirt. Elevate the look with a colorful or striped knit tie. Layer a V-neck sweater or a cardigan over your shirt to add a touch of sophistication. Complete the ensemble with leather brogues or boat shoes for that extra preppy coolness. This style is perfect for client-facing roles or those casual Fridays where you want to bring your A-game.
Casual Coolness
If you're all about that laid-back, effortlessly cool look, this style is your jam. Go for slim-fit dark jeans or well-fitted chinos in earthy tones that scream casual comfort. Pair them with a relaxed button-down shirt in a chambray fabric, or rock a stylish polo shirt. Layer up with a lightweight bomber jacket or a tailored blazer to add that touch of polish. Complete the look with clean men's white sneakers or suede loafers for that perfect balance between casual and cool. This style is a winner for creative industries or workplaces with a more relaxed dress code.

Remember, regardless of your style, make sure your clothes fit you well and are tailored to your body shape. Pay attention to the details and coordinate colors and patterns to create a cohesive and stylish business casual ensemble that reflects your style.
Where to Shop for Men's Business Casual Clothes
Now that we know what business casual clothes mens are all about, let's explore the best places to score the freshest threads that will have you owning the boardroom. Here are some top spots where you can find the best business casual clothes for men:
Department Stores: Hit up renowned department stores like Nordstrom, Macy's, or Bloomingdale's. They offer business casual attire from various brands, allowing you to browse and find the perfect pieces that suit your style and budget.
Specialty Stores: Explore specialty stores such as J.Crew, Banana Republic, or Brooks Brothers. These retailers specialize in men's fashion and often have dedicated business casual sections that offer many stylish options for the modern professional.
Online Retailers: Dive into the digital realm and explore online retailers like BYLT Basics, Cuts Clothing, or Legends Apparel. These platforms offer a vast selection of business casual clothing and men's athleisure outfits.
Thrift and Consignment Shops: Don't sleep on thrift and consignment shops, my stylish gents. You can stumble upon hidden gems and designer pieces at a fraction of the original price. Give your local thrift stores or online consignment platforms like thredUP or Poshmark a shot and add some unique flair to your business casual wardrobe.
Best Clothing Brands for Business Casual Men's Attire
Certain clothing brands stand out when elevating your business casual game. Here are a few trusted names that offer top-notch men's business and casual shirts and attire:
See our comprehensive review of the best athleisure brands for men in 2023.
Looking Stylish on a Budget
Looking sharp doesn't have to break the bank, my fashion-savvy friends. Fear not if you have men's business casual outfits and are on a budget! Here are some tips for finding affordable business casual clothing for men without compromising on style:
Sales and Clearance Sections: Watch for in-store and online sales and clearance sections. You can often find great deals on last season's styles or end-of-season sales, allowing you to snag high-quality business casual pieces at discounted prices.
Outlet Stores: Explore outlet stores for popular brands of business casual outfits like Polo Ralph Lauren, Calvin Klein, or Tommy Hilfiger. These stores offer discounted prices on their merchandise, making scoring some killer business casual finds easier without burning a hole in your wallet.
Online Deals and Coupons: Don't forget to check out websites that specialize in deals and coupons, such as RetailMeNot or Honey. They can provide promo codes and discounts that can be applied to your favorite online retailers, saving you some serious cash.
Secondhand Shopping: Embrace the world of thrift and consignment stores once again. You can often find gently used business casual clothing and men's fashion accessories still in excellent condition at significantly reduced prices. It's a win-win for both your wallet and the planet.
Entering the World of Business Casual Clothing for Men
Ah, my fellow gents, buckle up! You're about to be strapped into the vibrant universe of men's business casual dress shoes, where you'll have the perfect mix of panache and professionalism at your fingertips. The dance is about to begin, and it's all about marrying your vibe with a polished aesthetic—bringing that fresh swagger into the conference room.
Think of this as your ticket to the corporate fashion gala, where curating the perfect business casual attire for men now isn't just a pursuit; it's a skill. And a slick one, at that. You'll be sifting through the best stores and brands, cherry-picking the finest, most dope pieces, and making them your own.
And don't fret if you're working on a shoestring budget because even the most modest billfold can still score you some swanky threads. The world of business casual clothing for men offers a robust spectrum of options that'll burst your closet with both class and trendiness without busting your wallet.
The Sweet Spot of Style and Professionalism
Let's break it down. The business casual look is about finding that sweet spot, a balanced blend of finesse and flair. It's like crafting a cocktail of individual style, where your unique swag is the base and the refinement is the top note. It's about the perfect mix, not too stuffy but just right, where the boardroom won't know what hit 'em.
Strutting the Business Casual Runway
Here are men's business casual shoes where you can strut your stuff. Don't just put on clothes—wear them. Let them be an extension of you. Embrace the sleek lines of a tailored jacket or the clean cuts of well-fitted trousers. Use these pieces as a canvas. Paint your dapper brand onto the fabric. This is the true essence of business casual clothing for men.
And at the end of the day, the corporate jungle becomes your runway. You'll be rocking business casual looks, the finest business casual wear, styled with your unique swagger. And trust me, gents, it'll be sick— your style won't just be speaking volumes. It'll be shouting from the rooftops.
---
FAQ
What does a business casual dress code entail for men?
It is a blend of a professional look and personal comfort, offering a relaxed yet polished approach to attire for men. It typically includes button-up or button-down shirts, chino pants or dress slacks, and dress shoes.
What are the essential items in business casual outfits?
Business casual outfits often consist of a collared shirt, preferably a long sleeve, either button up or down. Pair it with dress or chino pants, and finish the ensemble with dress shoes for a dapper look.
Can dress slacks and shoes be replaced with jeans and activewear in a business casual dress code?
Generally, dress slacks and dress shoes are preferred in a business casual dress. However, neat, dark, well-fitted jeans can be acceptable depending on the workplace. Activewear is usually too casual, although it might suit some creative or start-up environments.
Are there any preferred brands for business casual outfits?
Certainly, plenty of brands cater to business casual clothing for men. However, the focus should be on fit, fabric, and comfort rather than the brand.
Is there a difference between button-up and button-down shirts for business casual outfits?
Button-up and button-down shirts are often used interchangeably in business casual attire for men. However, the key difference lies in the collar: a button-down shirt has extra buttons that fasten the collar points to the shirt, giving a slightly more formal look than a button-up shirt. Both are suitable for a business casual dress code.