Men's Business Casual: A Smart Guide for a Dapper Fit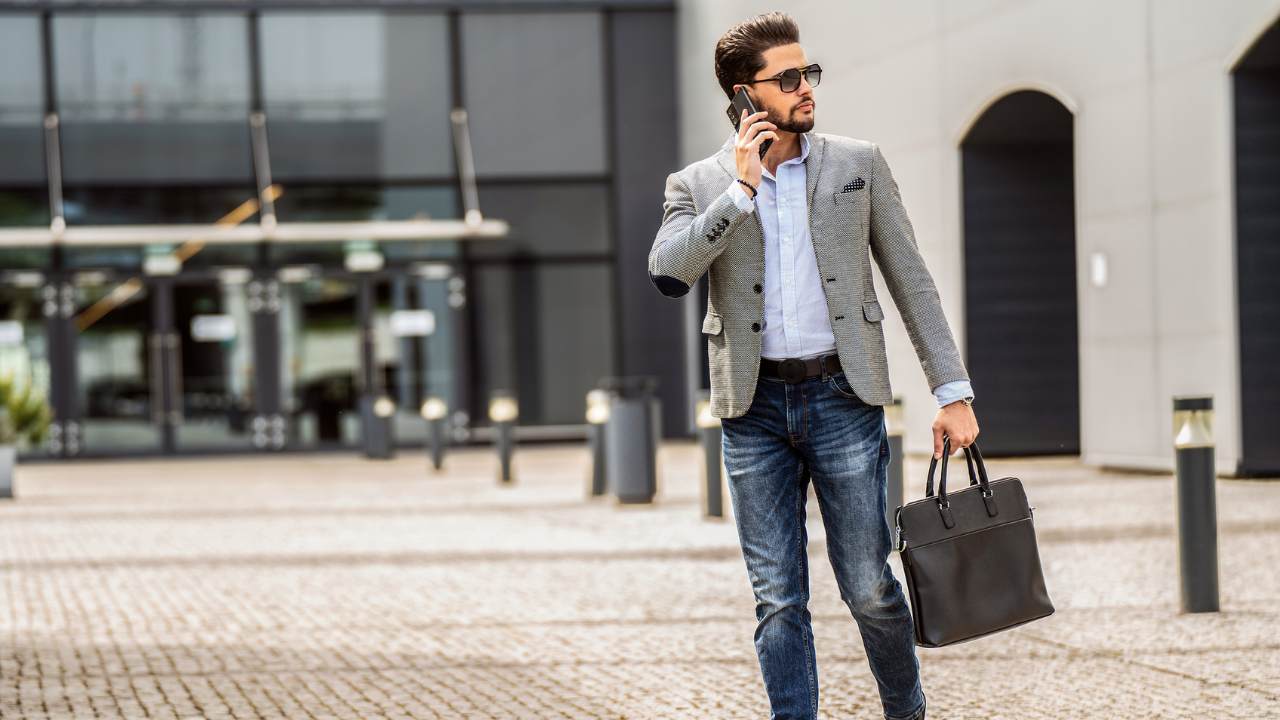 The Stylish Journey of Business Casual Attire
Welcome to the world of men's business casual. We're about to embark on a sartorial adventure into the realm of the 'new normal.' With the rise of less formal workplace dress codes, this guide is here to help you navigate the minefield of business casual. Ready to level up your style game?
Key Takeaways 🔥
Men's business casual attire is about finding that sweet spot between professional and comfortable, allowing individual style to shine through.
The building blocks of men's business casual include well-fitted button-down shirts, chinos or dress pants in neutral colors, high-quality leather shoes, and blazers or jackets.
Add a touch of sophistication to your business casual outfit with optional extras such as pocket squares, scarves, watches, leather bags, and classic ties.
Revamp your office wear by incorporating versatile clothing pieces, experimenting with relaxed options like loafers or brogues, and adding sweaters or cardigans for a modern yet professional business casual look.
Unraveling the Mystique of Men's Business Casual Attire
Business casual attire for men is about balancing the formality of a suit and tie and the comfort of casual wear. It's the go-to style for the modern man who wants to blend high-end fashion with everyday practicality.
Imagine swapping out stiff collars for polo shirts or Oxford shirts and trading suit pants for less structured chinos. The focus is on clean, well-cut clothing that maintains a professional edge while allowing for individual style.
The Stylish Journey of Business Casual Attire
The history of business casual in the workplace can be traced back to the post-War era when workplaces began to lean towards a more relaxed dress code. Over the decades, as work-life dynamics evolved, so did the corporate fashion scene.
From the shift in tie culture sparked by 'Mad Men' in the 1960s to the casual style of Silicon Valley tech startups today, each era has left its mark on business casual attire. Despite these changes, some elements have remained constant, such as the timeless appeal of Oxford shirts, chinos, and unstructured blazers.
Today's business casual style is about versatility, with wardrobe essentials transitioning seamlessly from weekday boardrooms to weeknight happy hours. As designers reinvent classic staples to meet modern lifestyle needs, the evolution of business casual continues, adapting to the diverse needs of various roles within the evolving workplace landscape.
The Key Elements of Men's Business Casual
Unleash your professional flair with these essential pieces that form the foundation of a dapper business casual wardrobe.
Shirts: The Bedrock of Your Business Casual Ensemble
A well-fitted button-down shirt is the bedrock of any business casual outfit. It's the canvas upon which the rest of your ensemble is painted, setting the tone for your entire look. So, when it comes to shirts, it's crucial to choose wisely.
🔥 OUR TOP PICKS 🔥
Opt for premium materials like cotton or linen. These fabrics are not only comfortable but also exude a sense of sophistication. They're breathable, a major plus, especially during those long office hours.
When it comes to colors and patterns, subtlety is key. Solid colors or understated patterns work best in a business casual setting. Think like light blues, crisp whites, or even soft pinks. If patterns are more your thing, consider classic stripes or checks. Remember, the goal is to look professional yet approachable, so it's best to steer clear of loud prints or overly bold colors.
The fit of your shirt is another crucial aspect to consider. A well-fitted shirt can enhance your physique and make you look more put-together. It should be snug, but not tight, around your chest and waist, and the sleeves should end just past your wrist bone.
Lastly, don't forget about the collar. A button-down collar is a safe and versatile choice for business casual attire. It's less formal than a spread or point collar, yet looks polished and professional.
Pants: The Foundation of Your Look
The right pair of pants is a game-changer in business casual. It's not just about covering your legs; it's about laying the groundwork for a look that's both professional and stylish. Your best bet is Chinos or dress pants in neutral hues like navy, khaki, or gray. They offer versatility and can easily blend with other clothing items, creating a harmonious ensemble.
🔥 OUR TOP PICKS 🔥
Jeans? Well, they can be a bit of a wild card. While some workplaces might give them the green light, it's generally safer to steer clear if you aim for a business casual vibe. They tend to lean more toward the casual end of the spectrum and might not convey the level of professionalism you aim for.
When choosing your pants, consider the fit and the fabric. A well-fitted pair of pants can enhance your silhouette and give you a more tailored look. As for the fabric, opt for materials that are comfortable yet classy. Cotton, wool, and blends are generally good choices. They're breathable, durable, and have a polished appearance.
Don't forget about the details. A nice belt can add a touch of elegance to your outfit and keep your pants in place. And remember, the color of your belt should match the color of your shoes. It's a small detail that can make a big difference in pulling your look together.
Blazers and Jackets: The Game-Changers
Blazers and jackets are the secret weapons in the arsenal of business casual attire. These versatile pieces can instantly elevate any outfit, adding a touch of professionalism and polish.
🔥 OUR TOP PICKS 🔥
An unstructured blazer is a perfect blend of formal and casual, allowing you to maintain a business-like look while still feeling comfortable. It's like the chameleon of your wardrobe, quickly adapting to your style needs. The relaxed fit and less rigid structure give you the freedom to move, making it an ideal choice for those days when your schedule is packed with back-to-back meetings.
Sweaters and Cardigans: The Unsung Heroes of Business Casual
Sweaters and cardigans, often overlooked, are the unsung heroes of the business casual world. These versatile pieces can add a layer of sophistication to your outfit, making you look put-together without much effort.
When it comes to choosing the right sweater or cardigan, the fit is crucial. A slim fit that hugs your body just right can make a difference in your overall appearance. It gives off a sleek and modern vibe that's perfect for the business casual setting.
🔥 OUR TOP PICKS 🔥
Color choice is another important factor. Neutral solid colors like black, navy, or gray are safe bets as they can be easily paired with other items in your wardrobe. They also give off a professional vibe that's perfect for the office.
Material is also something to consider. Opt for premium materials like cotton, wool, or cashmere for a luxurious feel and added warmth. These materials also tend to last longer, making them a good investment.
But sweaters and cardigans aren't just about keeping you warm. They also add a layer of complexity to your outfit, making it look more interesting. For instance, a V-neck sweater worn over a button-down shirt with the collar exposed gives off an innovative and sophisticated vibe. On the other hand, a cardigan worn over a T-shirt gives off a more relaxed and casual vibe.
Optional Business Casual Extras: The Finishing Touches
Elevate your business casual game with these optional extras. They're not just accessories; they're the finishing touches that add sophistication and style to your ensemble. Let's dive into these game-changers:
Pocket Squares: The Detail that Makes the Difference
Pocket squares might seem minor, but they can make a major impact. They're the perfect way to add a splash of color and a dash of personality to your outfit. Whether you opt for a classic white linen square for a timeless look, or a patterned silk one for a more contemporary vibe, a well-chosen pocket square can take your outfit from good to great.
Scarves: The Style Statement
In colder weather, a stylish scarf isn't just practical – it's a style statement. Opt for classic patterns or solid colors that complement your outfit; you'll look dapper while staying warm. Whether you choose a chunky knit for a more casual look or a sleek cashmere number for a touch of luxury, a scarf can add a whole new dimension to your business casual attire.
Watches: The Timeless Accessory
A high-quality black watch is more than just a functional piece – it symbolizes style and sophistication. Choose a timepiece that reflects your style and complements your overall aesthetic. Whether you prefer a minimalist design or a more complex timepiece, a watch is a subtle way to express your style and add elegance to your outfit.
Leather Bags: The Professional's Choice
Forget the backpack – a sleek leather bag or briefcase is the way to go. Not only does it look more business professional, but it also provides a practical way to carry your essentials. Whether you choose a classic briefcase for a more traditional look or a modern messenger bag for a more relaxed vibe, a leather bag is a must-have accessory for the business casual man.
Classic Ties: The Optional Extra
While ties are often considered optional in a business casual setting, there's no denying that a well-chosen tie can add a touch of polish to your outfit. Opt for classic patterns and colors for a timeless look, or experiment with more contemporary designs for a modern twist. Remember, choosing a tie that complements your outfit without overpowering it is key.
So, there you have it – the optional extras that can take your business casual look to the next level. Remember, it's all about finding the right balance between comfort and style and expressing your style through your choice of accessories.
Shoes: The Final Touch
Your choice of footwear is a game-changer in a business casual setting. It's the final touch that can either make your outfit pop or leave it looking lackluster. High-quality leather shoes are your best bet for a stylish and professional business casual look.
When it comes to brands, M.Gemi is a name that stands out. With their Italian-inspired designs, they offer a range of shoes that blend timeless style with modern elegance. From loafers to oxfords, monk straps to brogues, their collection caters to the discerning man who values quality and style.
🔥 OUR TOP PICKS 🔥
The Art of Business Casual: Styling Tips and Tricks
Refining Office Wear for a Business Casual Look
Business casual can be a bit daunting, especially when the boundaries are not clearly defined. However, creatively restructuring your office wear is the key to mastering this style. Begin with versatile pieces that can easily transition from formal to business casual.
Consider shirts that can be dressed in blazers or toned down with chinos. Pants should strike the perfect balance between comfort and style. Tailored trousers in versatile colors like navy or charcoal gray are ideal, as they can easily be paired with different tops.
🔥 OUR TOP PICKS 🔥
Shoes can also play a significant role in defining your look. Swap out your traditional dress shoes for more relaxed options like loafers or white sneakers. These stylish alternatives maintain a professional look while adding a touch of casual sophistication.
Blazers and jackets with a more laid-back feel can also be a great addition. Unstructured blazers made from lightweight materials are ideal for creating a polished yet relaxed appearance.
The Casual Everyday: Dressing Down with Style
Dressing down doesn't mean you have to compromise on style or professionalism. Here are some tips to help you achieve a relaxed yet refined look:
Invest in high-quality fabrics. Well-made clothing crafted from premium materials such as cotton, linen, or merino wool feels comfortable against the skin and lends a sophisticated touch to your outfit.
Ensure your clothing fits properly. Even when dressing down, opting for tailored shirts, pants, and blazers that flatter your body shape and create a polished look is essential.
Don't shy away from color. While neutral shades like navy and gray are always safe options, incorporating pops of color into your wardrobe can add personality without compromising professionalism.
Pay attention to details. Accessories such as belts, watches, and shoes can add a touch of sophistication to your look.
🔥 OUR TOP PICKS 🔥
Incorporating Workwear into Business Casual
Workwear-inspired pieces can add a rugged yet refined touch to your business casual ensemble. Opt for utility-inspired pieces with functional details like reinforced stitching, durable fabrics, and extra pockets.
Stick to earthy shades like khaki, olive green, navy blue, or brown. These colors are versatile and easily pair with other business casual pieces.
Denim has become more accepted in professional settings, especially when paired with the right pieces. Try a well-fitted denim shirt or dark-wash jeans as an alternative to traditional button-downs or trousers.
Layering with workwear jackets like chore coats or field jackets can instantly elevate your look while adding functionality.
🔥 OUR TOP PICKS 🔥
The Art of Business Casual: A Style Guide
Business Casual Attire: The New Norm
Business casual has become the standard dress code for many professionals in the modern workplace. Striking the right balance between professional and stylish can be challenging, but with a few key examples, you'll look dapper quickly.
The Classic Sophisticate
Consider a well-fitted blazer paired with chinos or tailored trousers for a look that screams confidence and professionalism. The outfit isn't complete without a crisp Oxford shirt and polished leather shoes. This timeless combination is the epitome of business casual, blending the formal with the relaxed in a way that will turn heads in the office.
The Casual Trendsetter
If your workplace is more laid-back, why not incorporate jeans into your business casual repertoire? Pair dark wash jeans with a button-down shirt in a neutral color, and finish off the look with a pair of sleek sneakers. This outfit not only offers comfort but also showcases your fashion-forward persona. It's a fresh take on business casual that's sure to make a statement.
The Comfortable Professional
Want to make an impression without sacrificing comfort? Try going sockless with loafers or slip-on shoes paired with slim-fit pants or rolled-up chinos. Add a lightweight sweater over your collared shirt for more sophistication. This stylish yet comfortable look is perfect for those warmer days at the office. It's a dope way to stay cool while still looking professional.
With these business casual attire examples, you'll never struggle to find the perfect outfit again. The key is experimenting with combinations that reflect your style while adhering to professional standards. After all, confidence is key when dressing professionally and stylishly in any workplace setting.
Business Casual with a Twist: Unleashing Your Inner Style Icon
Business casual has become a beacon of style and comfort in professional attire. But who says you can't add a dash of your flair to this dress code? Let's dive into some unique ways to elevate your business casual game.
The Denim Revolution: Business Casual with Jeans
Gone are the days when jeans were confined to casual Fridays. Today, they've carved out a niche in the business casual universe. Opt for a pair of dark wash or black jeans with a slim or straight fit. This gives you a polished look that screams professionalism yet with a modern twist. Pair them with a button-down shirt and blazer, and you have a relaxed yet sophisticated ensemble.
Ripped or distressed jeans might not be everyone's cup of tea in the office. So, always consider your workplace culture before you dive into this trend.
🔥 OUR TOP PICKS 🔥
Sneaker Game Strong: Business Casual with Sneakers
Sneakers have made a grand entrance into the business casual scene. They offer a perfect blend of comfort and style, adding a fresh vibe to your professional attire. Go for clean, minimalist designs like black, white, or navy in neutral tones. Pair them with chinos or dress pants for a smart and contemporary look.
The right pair of sneakers can make or break your outfit. So, choose wisely to strike the perfect balance between casual and classy.
🔥 OUR TOP PICKS 🔥
Sockless Swagger: Business Casual with No Socks
The sockless trend has taken the business casual world by storm. It adds effortless sophistication to your overall look while maintaining a professional appearance. Achieve this look by pairing loafers, brogues, or dress shoes with ankle-length pants like chinos or tailored trousers. This creates a sleek and modern aesthetic while showcasing your attention to detail in grooming and personal style.
When going sockless, make sure your shoes are clean and odor-free. After all, the devil is in the details.
Grooming Goals: The Final Touch to Your Business Casual Look
Grooming is the cherry on top of your business casual look. A well-groomed appearance exudes professionalism and style. Keep your hair neat and well-trimmed, whether you prefer a clean-cut style or longer locks. If you sport a beard, keep it neatly trimmed and maintained for a polished look. Don't forget about skincare – clear, healthy skin never goes out of style.
Pay attention to the subtle details like clean, trimmed nails and fresh breath. After all, these small details complete your look and set you apart.
Business Casual Shoes for Men: A Guide to Mastering the Look
Most Comfortable Business Casual Shoes
Regarding business casual attire, comfort is king, especially in the shoe department. Here's a selection of the most comfortable business casual shoes that effortlessly marry style with ease.
The Sacca Uomo Penny Loafer
These loafers from M.Gemi are a modern twist on a classic. With an Italian-inspired design, the Sacca Uomo penny loafer assures comfort with its hand-painted leather sole and plush footbed. The penny detail is hand-stitched, and the strap continues to the welt, adding a unique touch to the design.
Remember, the choice of shoes should match your lifestyle and job environment. While some white-collar settings allow classic and casual dress shoes, boot-friendly industries are often experimental and may permit sneakers. So, don't be afraid to explore different options and find the best fit for you.
---
Best Value Business Casual Shoes
When it comes to business casual shoes, value plays a key factor. Gents need style, comfort, quality, and durability that matches their investment. Here are some of the best value business casual shoes that strike a perfect balance.
Pair these shoes with a matching belt and watch to complete your business casual outfit. Remember that different industries may have varying guidelines for business casual attire, so choose shoes that best suit your work environment.
---
Best Summer Business Casual Shoes
As an affluent man, finding the perfect summer business casual shoes that provide comfort, excellent design, and a good fit is essential. Here's a list that will guide you in making the right choice:
Men's Grand Laser Penny Driver
The Grand Laser Penny Driver, a quintessential driving loafer, epitomizes effortless adaptability. This style, meticulously constructed from top-tier leathers and featuring a sumptuously cushioned footbed, was designed from the ground up to deliver exceptional all-around performance.
Men's Un Lisbon Lane Loafer
The un Lisbon Lane is a refreshing addition to your summer collection, combining the comfort of a sneaker with the adaptability of a loafer. Contrasting stitches highlight its moccasin-style toe, while the stretchable gore panels facilitate effortless wearing and removal. Internally, it features a detachable Ortholite molded footbed that ensures every step is cushioned and absorbs impact effectively.
Remember to match the color of your belt and watch to your shoes to maintain cohesive and professional business casual attire.
---
Best Premium Business Casual Shoes
If you're an affluent man who appreciates high-quality, stylish footwear, premium business casual shoes are a must for your wardrobe. These shoes combine comfort, durability, and fashion-forward designs, perfect for upgrading your business casual attire. Here's a selection of the best premium business casual shoes to consider:
The Park Avenue Oxfords are a must-have in any wardrobe, thanks to their exceptional craftsmanship and enduring quality that make them a worthy investment. They feature premium leather uppers with a capped toe, adding a touch of sophistication. The Balmoral lace-up closure ensures a customizable fit, while the smooth and breathable calfskin leather linings enhance comfort.
Stylish and high-quality loafers that marry Italian-inspired design with a modern sensibility, perfect for both professional and casual settings. This is a sophisticated reinterpretation of the classic penny loafer. The flexible, durable sole ensures comfort, while the deep color of the rich, hand-burnished leather makes each pair uniquely attractive.
Creating a Business Casual Outfit: The Art of Looking Dapper Without Trying Too Hard
Business casual attire is a balancing act, a tightrope walk between the formal and the laid-back. The key is to achieve a polished appearance without appearing overly deliberate. It's essential to feel at ease while still maintaining a neat appearance. It's vital to showcase your style without appearing too relaxed. And most importantly, it's about feeling confident in your skin.
Chinos and Unstructured Blazers: The Dynamic Duo
Regarding business casual, chinos and unstructured blazers are like Batman and Robin – they work well together. Chinos are the Swiss Army knife of pants. They're versatile, comfortable, and come in various colors. Opt for classic neutrals like navy, gray, or khaki to ensure they can be easily paired with other pieces. And remember, fit is king. Look for chinos in slim or tailored fits to achieve a modern and streamlined silhouette.
Now, let's talk about unstructured blazers. These bad boys are the secret sauce to nailing the business casual look. Unlike their structured counterparts, unstructured blazers are more relaxed and less formal, making them ideal for business casual attire. They have softer shoulders and little to no padding, providing a more laid-back appearance without sacrificing sophistication. Opt for neutral tones like navy or gray to keep your outfit versatile.
🔥 OUR TOP PICKS 🔥
Oxford Shirts and Smart Trainers: The Perfect Pair
Oxford shirts are the bread and butter of any business casual outfit. They're like the older, more mature brother of the regular dress shirt. They're made from a heavier fabric which gives them a more substantial feel, making them perfect for transitional seasons. The button-down collar adds a touch of refinement to your overall look. And the best part? They come in various colors and patterns, allowing you to express your style while maintaining a professional appearance.
Now, let's talk about smart trainers. These aren't your regular gym shoes. They're sleek, they're stylish, and they're comfortable. They're the perfect footwear for the man who wants to look good without sacrificing comfort. Opt for neutral colors like white, black, or navy to ensure versatility and easy pairing with different outfits. And remember quality matters. Look for high-quality materials like leather or suede to elevate your ensemble and make a lasting impression.
🔥 OUR TOP PICKS 🔥
Polo Shirts and Casual Loafers: The Ultimate Combo
Polo shirts and casual loafers are like business casual attire's peanut butter and jelly. They're a match made in heaven. Polo shirts strike the perfect balance between formal and casual. They're comfortable yet polished, making them ideal for business casual settings. Look for high-quality polo shirts in classic navy, white, and black.
When it comes to footwear, casual loafers are a no-brainer. They're sophisticated, they're stylish, and they're comfortable. They're the perfect footwear for the man who wants to look good without sacrificing comfort. Italian-inspired brands like M.Gemi offer a range of loafers that combine comfort with style.
Business casual is all about balance. Achieving a sharp appearance without appearing to put in too much effort is important. It's also crucial to maintain a comfortable look without appearing unkempt. Most importantly, it's about feeling confident in your skin. Try out different combinations and discover the most flattering look for yourself.
🔥 OUR TOP PICKS 🔥
Seasonal Adaptations in Business Casual
Summer Business Casual: Staying Cool and Professional
When the sun is out, and the temperature rises, maintaining that professional look while not melting in the heat is challenging. The key is to opt for lightweight materials like cotton or linen. These breathable fabrics keep you cool even on the hottest days.
Consider light-colored button-down shirts to reflect the sun's rays rather than absorb them. Pair these with chinos or lightweight trousers for a cool and professional look. And don't forget about footwear. Swap those heavy leather shoes for something lighter, like loafers or canvas sneakers.
🔥 OUR TOP PICKS 🔥
Winter Business Casual: Balancing Warmth and Style
As the mercury drops, your business casual wardrobe needs to adapt. It's all about layering in the winter months. Start with a base layer like a button-down shirt or a polo, then add a sweater or a cardigan for warmth.
A well-fitted quarter-zip pullover can provide an extra layer of insulation while maintaining a professional look. Consider swapping your regular trousers for a heavier fabric like wool for your lower half. And don't forget about your feet. Opt for leather or suede shoes that provide more insulation than canvas or lightweight materials.
The key to seasonal adaptations in business casual is to balance comfort with professionalism. Whether it's summer or winter, you can stay stylish and appropriate with a little planning and a few key pieces.
🔥 OUR TOP PICKS 🔥
Business Casual for Every Body Type
Dressing the Tall and Slim Figure
The business casual world can be a playground for those with a towering and lean physique. Your body type, often referred to as the rectangle, is characterized by a tall and thin frame where the shoulders are roughly the same width as the waist and hips. The trick here is to add a bit of structure and dimension to your look.
Start off with horizontal stripes, especially across your upper torso. This pattern adds width to your slender frame. Layering is also your friend. A button-down shirt paired with a fine-gauge crew neck jumper adds instant bulk to your frame. Structured tailoring, especially in blazers and suit jackets, can add size to your shoulders and emphasize your waist.
However, avoid double-breasted jackets as they do little for your rectangle-shaped body. Instead, create shape by contrasting layers such as a shirt or a cardigan over a crisp white T-shirt or vest to create an extended V-shaped panel on the upper section of your body.
Business Casual for the Athletic
For those with a body type that screams "gym life," often referred to as the inverted triangle, your well-developed chest, and shoulders are significantly broader than your waist and hips. The challenge here is to balance the proportions of your well-developed upper body with your trim midriff and lower body.
Your goal should be to show off your toned and fit body subtly. Wear close-fitting clothes that reduce visual clutter and emphasize your torso's clean, sharp lines. Horizontal stripes, especially from the chest down, can broaden your comparatively narrow waist. Slim-fit shirts and cotton polo shirts with a spandex mix will allow stretching across a broad set of shoulders and chests while creating a tailored look around the waist.
Avoid structured tailoring, as suit jackets and blazers with shoulder padding and wide lapels will emphasize your heavy upper body. Unstructured silhouettes work better in streamlining your frame. Also, avoid prints, patterns, and scoop necklines as they draw attention to your wide frame and throw your body out of proportion.
The key to nailing business casual for every body type is understanding your body's strengths and dressing to enhance them. It's all about balance, proportion, and ensuring your clothes fit well. So, a business casual style is right for you, whether you're tall and slim or rocking an athletic build.
Day to Night: Transitioning Your Business Casual Look
Office-Ready to Evening Chic: Quick Transitions
When the sun dips and the office lights dim, it's time to transition your business casual look from day to night. But hey, who has time for a complete outfit overhaul? Not you, that's for sure. So, let's talk about some quick swaps to keep you looking dapper all day and into the night.
Start with your base – a classic pair of trousers and a versatile top. Now, let's add some magic. During the day, keep it professional with an oversized blazer or a knit cardigan. Swap it for a leather jacket when the evening rolls in to add some edge to your look.
The Art of Layering for Day-to-Night Looks
Now, let's talk accessories. These are the true masters of versatility. Swap your work tote for a small clutch or a chain-strap shoulder bag. Cinch your waist with a trendy belt for an extra touch of formality. And don't forget to add some accent colors for the night – they can make all the difference.
And finally, the shoes. A sneakers-to-heels swap is the most obvious choice. However, if you're working all day and partying all night, opt for a chunky heel or platform boots for the same swanky night vibe but with a new level of comfort. Or, if you'd rather ditch the heels entirely, a set of embellished flats, ankle boots, or platform loafers could also align with your fancy soirée.
So, there you have it. With a few simple swaps and creativity, you can easily transition your business casual look from day to night. Now, go out there and show the world how it's done!
Cultural Variations in Business Casual
Business Casual Around the World: A Comparative Look
The term "business casual" might sound straightforward, but its interpretation can be as diverse as those wearing it. The definition of business casual can vary significantly based on factors like industry, company size, employee interaction level, geography, climate, culture, and even the workforce's average age.
For instance, business casual in a tech startup in sunny California might mean wearing well-fitted jeans and a clean, crisp t-shirt. On the other hand, an investment firm in London might interpret business casual as a tailored blazer, button-down shirt, and chinos.
The key is to understand the context and adapt accordingly. It's about balancing professionalism and comfort without leaning too heavily on either side. You want to project a professional image while enjoying the advantage of more relaxed clothing.
Adapting Business Casual to Your Cultural Context
Adapting your business casual attire to your cultural context is all about understanding the norms and expectations of your environment. It's about being aware of what's appropriate in your workplace and dressing to meet those standards.
For instance, in some cultures, bright colors might be the norm, while neutral tones might be preferred in others. Similarly, the level of formality can vary. In some workplaces, a polo shirt and khakis might be perfectly acceptable, while in others, a button-down shirt and tailored trousers might be the minimum expectation.
The bottom line is, when it comes to business casual, one size does not fit all. It's a flexible dress code allowing personal expression while maintaining a professional appearance. So, take the time to understand your cultural context and adapt your attire accordingly. After all, how you dress reflects your understanding and respect for your workplace culture.
Navigating the Business Casual Landscape: Do's and Don'ts
When it comes to business casual, it's all about striking the right balance between professionalism and comfort. Here's a quick rundown of some do's and don'ts to keep your business casual game on point.
Dressing the Part
First, business casual is not an excuse to slack off on your style. It's all about maintaining a professional and respectful appearance. So, ditch those graphic tees, hoodies, or anything that screams, "I just rolled out of bed."
The Fit Factor
Your clothes should fit like a well-tailored suit – not too tight or loose. Baggy or ill-fitting attire can come off as sloppy, and that's a big no-no in the business casual world.
Quality Over Quantity
Invest in high-quality materials that are durable and comfortable. Cotton, wool, and linen are your best friends here. They not only look polished but also feel great on the skin.
Cleanliness is Next to Godliness
Ensure your business casual attire is clean, pressed, and wrinkled-free. It's not just about looking good – showing that you care about your appearance and, by extension, your work.
Accessorize Wisely
Accessories can make or break your outfit. A sleek watch, a tasteful tie clip, a pocket square, or a leather belt can add that extra oomph to your look. But remember, less is more.
Business Casual vs. Smart Casual: Spot the Difference
While business casual and smart casual share some similarities, they have distinct characteristics that set them apart.
Business casual typically refers to a more relaxed but professional look in the workplace. Think tailored trousers or chinos paired with a button-down shirt or polo shirt. Blazers or jackets are optional but can add a touch of sophistication to your outfit.
On the other hand, smart casual is often associated with social events or slightly less formal occasions. It allows for more flexibility, incorporating dark jeans, stylish sneakers, and knitwear into your ensemble.
Context is key when deciding between these two dress codes. For example, if you're attending a work networking event after office hours, going for a smart casual look may strike the right balance of professionalism and personal style.
Understanding these subtle differences will help ensure you always make the appropriate fashion choices for any occasion. So, whether you're dressing for a board meeting or a casual Friday, you'll be ready to strut your stuff with confidence and style.
The Future of Business Casual: A Stylish Evolution
The future of business casual is shaping up to be a fascinating blend of comfort, style, and adaptability. As we move further into an era where CEOs are just as likely to sport jeans and a t-shirt as they don a full suit, the definition of business casual is evolving. This shift is driven by companies offering incentives like casual Fridays and the increasing number of employees working from home, who can technically "show up" to work in whatever they fancy.
The New Norm: Business Casual
Business casual has become the new norm in many industries. It's a style that combines the professionalism of traditional business attire with the comfort and ease of casual wear. Think khakis or dress slacks paired with a nice shirt. For men, this could mean a polo or button-up; for women, it could mean a dress, skirt, or nice blouse. Some companies even allow a t-shirt of the right color under their business casual dress code, creating a sense of uniformity without being too rigid.
Casual Work Attire: The Next Level
Casual work attire takes the relaxation up a notch. While jeans and T-shirts might come to mind, the expectation is still to be a bit dressed up. Wear jeans, khakis, and dress slacks with less formal shoes. Women might dress up a pair of leggings with an oversized sweater or wear jeans with a nicer shirt. The goal here isn't to look like you're headed to the gym but to be more comfortable in your clothes while maintaining a neat and clean appearance.
Dressed Down Casual: Maximum Chill
Then there's dressed down casual, a style that some companies embrace, allowing staff to come to work in shorts, comfortable walking sandals, and t-shirts. Almost anything goes in these ultra-relaxed environments as long as the clothes cover a certain length and aren't too beachy.
The Future is Flexible
The future of business casual is flexible. While sectors like healthcare, legal, politics, and finance still adhere to very formal workplaces, other industries can easily adopt a more casual work environment. If jeans days on Fridays aren't causing productivity issues, why not allow staff to wear those clothes daily if they want?
With the future of remote work changing rapidly, many companies are reevaluating their dress code policies. Where possible, companies now allow more flexibility in what employees wear as long as they are neat and clean and perform their work excellently.
So, what's the takeaway here? The future of business casual is all about balance. It's about finding that sweet spot between comfort and professionalism, personal style, and respect for the workplace. It's about embracing change and flexibility while maintaining identity and purpose. And most importantly, it's about feeling good in what you wear because when you feel good, you do good.
FAQ
What constitutes a business casual outfit?
A business casual outfit typically includes chinos, unstructured blazers, polo shirts, and casual loafers. The key is to balance formal and casual, maintaining a professional appearance while allowing for a more relaxed vibe.
How can I adapt my business casual attire to different seasons?
In the summer, opt for lightweight fabrics and lighter colors to stay cool while maintaining a professional look. In the winter, layering is key. You can add a stylish sweater or cardigan to your outfit for added warmth without sacrificing style.
How can I transition my business casual outfit from day to night?
Quick transitions can be achieved by swapping out a few key pieces. For example, you might switch your daytime loafers for a pair of sleek brogues for an evening event. Layering can also be a great strategy for transitioning from day to night.
How does business casual attire vary across different cultures?
Business casual can look different worldwide, reflecting cultural norms and expectations. It's important to research and respect the cultural context you're in. For example, in some cultures, more conservative attire might be expected, while others might allow for a more expressive personal style.
What are some do's and don'ts for business casual attire?
Include dressing appropriately for the occasion, paying attention to fit, choosing quality fabrics, and maintaining good grooming habits. Don't include wearing overly casual or inappropriate clothing, wearing ill-fitting attire, and neglecting personal hygiene.
What's the difference between business casual and smart casual?
While both styles share some similarities, they have distinct characteristics. Business casual is more relaxed but still professional, ideal for the workplace. Smart casual allows for more flexibility, incorporating dark jeans and stylish sneakers, often associated with social events or less formal occasions.
How can I adapt business casual attire to my body type?
The key is to choose pieces that flatter your specific body type. Opt for pieces that add a bit of bulk without being too loose for tall and slim figures. For those with an athletic build, look for clothes that highlight your physique while maintaining a professional appearance.
How can I make my business casual attire look fresh and stylish?
Incorporate trendy pieces and accessories, play with color and patterns, and don't be afraid to express your style. Just remember to keep it professional and appropriate for the setting.
Can I wear jeans in a business casual setting?
In some workplaces, dark, well-fitted jeans may be acceptable as part of a business casual outfit. However, it's important to understand your company's dress code policies before incorporating jeans into your business casual wardrobe.
What is the future of business casual attire?
The future of business casual attire is likely to continue evolving, balancing professionalism with personal style. With workplaces becoming more flexible, we can expect to see a wider acceptance of different styles and a shift towards a more individualistic approach to business casual.