2023 Men's Summer Fashion: Latest Trends & Must-Have Pieces
Unleash Your Summer Style
Summer is not just a season—it's an opportunity to embrace the sun-soaked days with style, confidence, and an unwavering sense of swag. As the temperature rises, it's time to shed those layers and reinvent your wardrobe with the hottest fashion trends for men in 2023. Prepare to make a statement, turn heads, and bask in the glory of the fashion world's most coveted looks.
This exhilarating guide unveils the sartorial secrets that will elevate your summer style to new heights. From the runways of Paris to the streets of New York, we've curated a collection of trends that will set the fashion scene ablaze. Picture yourself strolling along sandy beaches, attending rooftop soirées, or exploring exotic destinations while exuding an aura of sophistication and effortlessly cool.
From vibrant tropical prints that transport you to paradise to crisp and clean monochromatic ensembles that exude timeless elegance, the 2023 summer fashion trends offer a kaleidoscope of possibilities. We'll explore the art of layering lightweight fabrics to create versatile and dynamic outfits that adapt seamlessly to changing temperatures. You'll discover how to effortlessly incorporate accessories like statement sunglasses, straw hats, and leather sandals that complete the perfect summer look.
But it's not just about following trends—embracing individuality and expressing your unique style. We'll guide you on a journey of self-discovery, helping you curate a summer wardrobe that reflects your personality, passions, and aspirations. Whether you're a trendsetter or prefer a more classic approach, this guide is designed to ignite your creativity and inspire you to experiment fearlessly with fashion.
So, gents, get ready to dive into 2023 men's summer fashion, where style knows no boundaries and self-expression is celebrated. Join us as we unravel the hottest trends, offer expert styling tips, and empower you to own your summer with unbridled confidence. It's time to step into the spotlight and unleash your true swag.
Key Takeaways
Bold prints and patterns, relaxed silhouettes, bright colors, athletic-inspired pieces, sustainable fashion choices, and Western wear influence are the latest trends in 2023 men's summer fashion.
Must-have pieces include Cuban collar shirts, oversized shirts, baggy pants, and wide-leg jeans for a relaxed fit. Lightweight jackets are also essential for sudden changes in temperature during summer days or nights.
Mixing and matching different pieces while experimenting with proportions and accessories can add personality to your outfit. Sustainability is also important when choosing clothing items by opting for eco-friendly fabrics or recycled/upcycled materials. Thrift shopping or online deals can help keep costs down without sacrificing style.
Latest Trends In Men's Summer Fashion For 2023
Bold prints and patterns are set to dominate the men's summer fashion scene in 2023, with eye-catching designs from palm trees to abstract shapes taking center stage.
Bold Prints And Patterns
Bold prints and patterns are making a significant comeback in the 2023 men's summer fashion, offering fresh and eye-catching looks for the season. Embrace your adventurous side by experimenting with vibrant tropical patterns, abstract designs, or classic stripes for an updated take on this trend.
A great way to incorporate bold prints into your wardrobe is by choosing one statement piece as the focal point of your outfit. For instance, pair a patterned short-sleeve shirt with solid-colored shorts or chinos for a balanced yet striking look.
Alternatively, go all out and mix different prints — think geometric shapes alongside floral motifs — for an unexpected contemporary and daring twist.
Men's Summer Fashion: Our Top Picks 🔥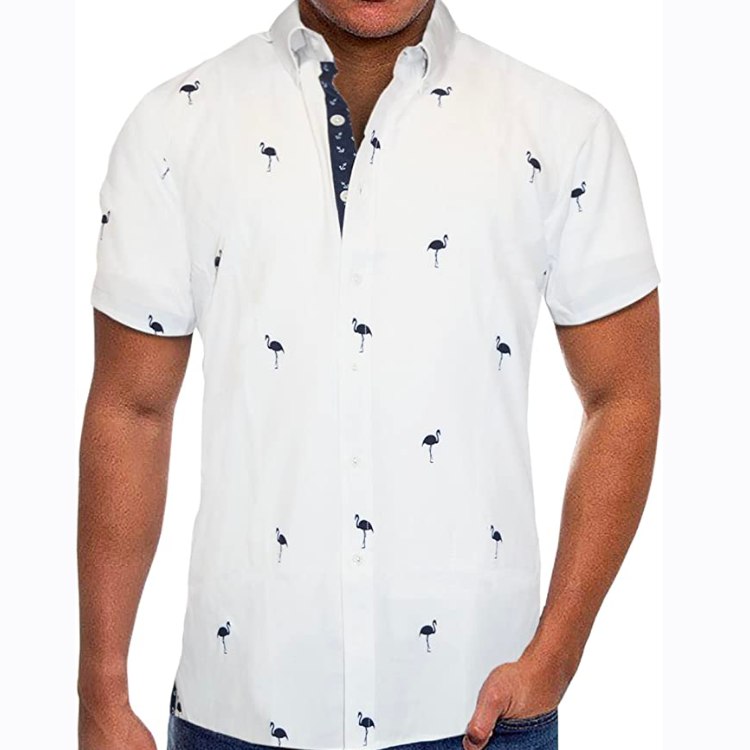 Relaxed Silhouettes
Relaxed silhouettes take center stage in 2023 men's summer fashion, offering a comfortable and versatile alternative to more structured and tailored styles. This trend focuses on loose-fitting garments such as oversized shirts, baggy pants, wide-leg jeans, and roomier shorts that emphasize comfort without sacrificing style.
One perfect example is the resurgence of drawstring trousers made from breathable materials like linen or lightweight cotton blends. These provide maximum comfort during hot summer days and give you an effortlessly cool look when paired with your favorite Cuban collar shirt or graphic tee.
Another great option for embracing this trend is investing in an oversized blazer that can be dressed down with a simple T-shirt and sneakers or tailored trousers for a night out.
Men's Summer Fashion: Our Top Picks 🔥
Bright Colors
As one of the most vibrant trends in 2023 men's summer fashion, bright colors are making a bold statement this season. Embracing hues like electric blue, neon green, and fiery red will instantly elevate your wardrobe and add some much-needed pizzazz to your daily outfits.
For example, consider rocking a pair of eye-catching neon shorts while lounging on the beach or attending a backyard barbecue. Alternatively, try incorporating colorful accessories such as an electric blue watch strap or vivid-hued sneakers into your everyday wear for a sophisticated yet playful touch.
Athletic-Inspired Pieces
Get ready to channel your inner athlete with the athletic-inspired trend in men's summer fashion for 2023. This trend is all about incorporating pieces that are not only stylish but also functional and comfortable.
Mixing and matching different athleisure pieces with more casual or elevated wardrobe staples is key to nailing this trend. For example, pair a crisp white dress shirt with tapered jogger pants or layer a quarter-zip pullover under a blazer for a modern twist on business casual attire. The possibilities are endless when styling athletic-inspired pieces into your wardrobe rotation for summer 2023.
Sustainable And Ethical Fashion Choices
Sustainability and ethical fashion are increasingly becoming more important in men's summer fashion. As we become more aware of our choices impact on the environment, it's essential to consider how our clothing is produced and what materials are used.
Opting for eco-friendly fabrics such as organic cotton, linen, or hemp is an excellent place to start. Another way men can opt for sustainable fashion is by investing in garments made with recycled or upcycled material.
Furthermore, ethical production practices should be considered when shopping for summer apparel.
Choosing sustainable clothing for men and ethical fashion positively impacts the environment and society while allowing you to look stylish during summer outings.
Western Wear Influence
In 2023, the Wild West will heavily influence men's summer fashion. This trend includes cowboy-inspired pieces like fringed jackets, boots, and denim vests. Designers are also incorporating Western-style prints like bandana patterns into their collections. You don't need to dress head-to-toe in cowboy attire to pull off this trend. You can incorporate a few Western-style pieces into your outfit for a subtle nod to the trend.
For example, pairing a denim jacket with black jeans and boots gives off an effortless cowboy vibe while still looking stylish and on-trend. Overall, embracing the Western wear influence in your summer wardrobe can add some edge and personality to even the simplest of outfits.
Must-Have Pieces For Men's Summer Wardrobe 2023
Some must-have pieces for men's summer wardrobe in 2023 include the stylish Cuban collar shirts, oversized shirts that provide comfort and style, baggy pants and wide-leg jeans for a relaxed fit, lightweight jackets for brisk mornings or evenings, comfortable shorts in breathable fabrics to beat the heat.
Cuban Collar Shirts
Cuban collar shirts are a trend that has been around for quite some time, and it's not going anywhere anytime soon. These shirts, also known as camp-collar or revere collar shirts, feature an open collar with two points that lie flat, often paired with short sleeves to create a laid-back summer look.
One way to style Cuban collar shirts is by pairing them with shorts or chinos for a casual day out in the sun. They can be paired with dress pants or dark-wash jeans for a more dressed-up vibe.
The breathable fabric used to construct these shirts makes them perfect for the summer heat while adding sophistication to any outfit.
Oversized Shirts
Oversized shirts are a must-have piece for men's summer wardrobes in 2023. These versatile shirts offer comfort and style, making them perfect for any casual occasion.
There are several ways to style oversized shirts. You can wear them as an outer layer over a t-shirt or tank top for a relaxed yet stylish look. Alternatively, you could pair them with slim-fit pants or shorts to balance out the volume of the shirt. The key is to play with proportions and find what fits your style best.
Investing in an oversized shirt is smart for anyone looking to update their wardrobe ahead of 2023's summer season fashion trends.
Baggy Pants And Wide-Leg Jeans
In 2023, baggy pants and wide-leg jeans will be the perfect combo of comfort and style for men's summer fashion. Loose-fitting trousers will replace skinny fits as this year's must-have bottom choice.
Not only do they keep you cooler in hot weather, but they also offer a relaxed silhouette that provides unrestricted movement. Think about pairing your pant with an oversized tee or button-up for a laid-back aesthetic that is still on-trend.
One more reason to love baggy pants? They're incredibly versatile! You can dress them up by tucking in a crisp shirt or pairing them with boots. For a more casual look, wear them with sneakers or sandals and add an accessory like a trendy bucket hat for extra flare.
Lightweight Jackets
Regarding summer fashion for men in 2023, lightweight jackets are a must-have piece. These jackets offer the perfect balance between functionality and style, providing protection from sudden changes in temperature without sacrificing your outfit's overall aesthetic.
Not only do lightweight jackets serve functional purposes during the summer months, but they can also add an extra layer of personality to any outfit. Mixing and matching different styles with your favorite shirts and pants can help you create unique looks that reflect your tastes.
So whether you're hitting up a rooftop party or exploring new cities on vacation this summer, bring a lightweight jacket that fits your style and needs.
Comfortable Shorts
Comfortable shorts are a must-have for any man's summer wardrobe. Whether hitting the beach or going on a casual outing, having the right pair of shorts is crucial for staying comfortable and stylish.
Look for lightweight fabrics like cotton or linen that allow your skin to breathe in the heat.
There are many styling options for shorts, from classic chino styles to sporty athletic-inspired designs. Try pairing your shorts with a graphic tee, tank top, and sneakers for a more laid-back look.
Layer up with a button-up shirt and loafers if you want something dressier.
Breathable Fabrics
Regarding summer fashion, one of the most important things to consider is the fabric. Breathable fabrics will keep you cool and comfortable during the hot months. Look for fabrics like cotton or linen, which are lightweight and won't trap heat.
Another great option is bamboo fabric, which has moisture-wicking properties that help draw sweat away from your body.
Breathable fabrics can also come in different textures and patterns to add depth and interest to your outfits. For example, a simple cotton t-shirt can be elevated with a subtle stripe pattern or a lightweight chambray material.
Not only will you look stylish, but you'll feel fresh all day long without feeling weighed down by heavy garments.
How To Style The Latest Trends And Must-Have Pieces
Mix and match your pieces to create unique combinations that reflect your style. Experiment with layering, playing with proportions, and adding accessories such as sunglasses or watches to add a touch of sophistication.
Mixing And Matching Pieces
Mix and match different pieces in your wardrobe to achieve a stylish and unique summer look. Here are some tips on how to do it:
Combine Prints: Don't be afraid to mix patterns like stripes, florals, and checks. Just make sure they're in complementary colors.
Play with Colors: Experiment with different hues by pairing bold-colored shirts with neutral pants or vice versa.
Layer Up: Add layers to your outfit by pairing a lightweight jacket over a t-shirt or wearing a shirt over a tank top.
Sneaker Game strong: Pair your outfits with the right sneakers to complete the look. White sneakers go well with almost anything!
Accessorize Smartly – Accessorize your outfit with minimalistic jewelry like bracelets or necklaces for an extra edge.
Remember, no hard and fast rules exist for mixing and matching pieces. So be creative and have fun!
Playing With Proportions And Silhouettes
When it comes to men's summer fashion in 2023, playing with proportions and silhouettes is the key to achieving the perfect look. Here are some tips to help you experiment with your style:
Mix fitted and oversized pieces for a balanced look. Try pairing an oversized shirt with slim-fit pants or shorts.
Experiment with different lengths. Tuck in your shirt for a more put-together look, or leave it untucked for a casual vibe.
Layer different fabrics and textures for added interest. Pair a lightweight linen jacket with cotton pants or shorts, or mix denim with cotton.
Play with asymmetrical shapes and designs. Look for shirts or jackets featuring off-kilter buttons, angled hemlines, or irregular patterns.
Don't be afraid to try bold prints or patterns in larger sizes. Hawaiian shirts, polka dots, stripes, and florals are all on-trend for 2023.
Playing around with proportions and silhouettes allows you to create a unique and personalized summer wardrobe that showcases your personality and style sensibilities.
Experimenting With Accessories
Men's fashion accessories are a great way to elevate your game. Here are some ideas for experimenting with accessories:
Sunglasses: Choose a pair that complements your face shape and personal style. For 2023, try colored lenses or retro-inspired frames.
Watches: A classic timepiece is always a good idea, but why not mix things with a sportier or more unique design?
Hats: Keep the sun off your face while looking stylish with a straw fedora or bucket hat.
Jewelry: Bracelets, necklaces, and rings can add personality to any outfit. Try mixing metals and styles for a more eclectic look.
Bags: A tote bag or backpack that matches your outfit can make a statement while being functional.
Belts: Don't underestimate the power of a good belt – it can cinch in baggy clothing and add flair to any outfit.
Shoes: From sneakers to sandals to boat shoes, there are plenty of options for summer footwear. Try something new, like espadrilles or loafers, for a fresh twist.
Remember that accessories should complement your outfit without overpowering it. Keep it simple and experiment until you find what works best for you!
Dressing Up And Dressing Down
Looking sharp doesn't always have to mean dressing up. Here are some tips on how to seamlessly transition from a casual day out to a fancier evening event:
Layer Up: Start with a comfortable base outfit, like a T-shirt and jeans. Then, add a blazer or tailored jacket to elevate the look.
Accessorize: Switch up your accessories depending on the occasion. Swap out sneakers for dress shoes and add a tie or pocket square for a more formal touch.
Mix Textures: Pairing different textures can instantly add dimension to your outfit. Try pairing denim with leather accents or velvet with cotton.
Keep it Simple: Don't overthink it – sometimes less is truly more. Go for classic neutral-color pieces that can easily be dressed up or down.
Play with Color: Experiment with bolder hues and patterns to add personality to your outfit. Remember to keep it balanced by sticking to one statement piece and toning down the rest of the outfit.
By following these simple tips, you can effortlessly switch up your style from day to night without sacrificing comfort or personal style preferences!
Accessorizing With Sunglasses And Watches
Accessorizing with sunglasses and watches can elevate your summer wardrobe to the next level. Here are some tips on how to choose the best accessories for your look:
Sunglasses: Choose a style that suits your face shape, whether aviator, wayfarer, or round frames. Look for sunglasses with UV protection to protect your eyes from harmful sun rays.
Watches: Choose a watch that complements the rest of your outfit in color and style. Leather-strap black watches work well with casual outfits, while metal-strap watches can add some refinement to a formal look.
Mix and Match: Don't be afraid to mix and match different styles of sunglasses and watches for a unique look that's all your own.
Keep it Simple: Avoid going overboard with too many accessories at once – stick to one statement piece like a bold pair of sunglasses or a sleek watch.
Experiment with Colors: Use accessories as an opportunity to add pops of color to neutral outfits or complement bold prints with more subtle accessory choices.
Remember, accessories are meant to enhance your overall look, not detract. Choose wisely and have fun experimenting with different styles!
Incorporating Sustainability In Fashion
As we move towards a more eco-conscious society, incorporating sustainable fashion into our wardrobes is becoming increasingly important. Here are some ways to make your summer wardrobe more sustainable:
Choose natural fabrics such as linen, hemp, and organic cotton.
Look for brands that use recycled materials or have a zero-waste process.
Repurpose old clothes into new pieces or donate them to charity.
Shop locally to reduce transportation emissions.
Invest in high-quality pieces that will last longer and reduce the need for constant replacements.
Consider secondhand shopping or renting clothing instead of buying new.
By incorporating sustainability into our fashion choices, we can look good and feel good about doing our part for the environment.
Budget-Friendly Options For Men's Summer Fashion
Looking to save some bucks while still looking stylish this summer? Try these budget-friendly options for men's summer fashion. From thrift shopping to online deals, there are plenty of ways to stay on-trend without breaking the bank.
Thrift Shopping
You don't have to break the bank to stay stylish. Thrift shopping is a great way to find unique pieces that won't cost a fortune. Here are some tips on how to make the most out of your thrift store trip:
Know what you're looking for: Before you hit the thrift store, know what pieces you're looking for so you can focus your search.
Check the quality: Don't be tempted by low prices if the item is in poor condition or won't last.
Try everything on: Sizes aren't always consistent, so try everything on before purchasing.
Look beyond the men's section: Don't be afraid to browse other sections like women's, children's, and even accessories for hidden gems.
Alterations are key: If something doesn't fit perfectly, consider altering it to achieve that perfect look.
Set a budget: Stick to your budget and resist buying unnecessary items because they are a good deal.
Stocking up on high-quality pieces from thrift stores is an affordable way to keep your wardrobe fresh without sacrificing style or breaking the bank!
Sale Season
You can find great deals on men's summer fashion during the sale season. Many retailers offer discounts on current and past-season pieces, allowing you to stock up on must-have items at a fraction of the cost.
If you're looking for budget-friendly options, consider shopping at outlet stores or online retailers specializing in discounted fashion. Just be sure to shop consciously and avoid impulse purchases.
Online Deals
Online deals are a great option if you're looking to update your summer wardrobe without breaking the bank. Many websites and apps offer discounted prices on men's fashion during sale seasons or even all year round.
Some popular options include ASOS, Zara, and H&M.
Another way to snag online deals is coupon codes or cashback programs such as Rakuten or Honey. These programs offer discounts and cashback rewards when you purchase through affiliated retailers.
You can also try shopping from secondhand marketplaces like eBay or Poshmark to find gently used items at a fraction of the original price.
Conclusion
Get ready to elevate your summer wardrobe with the latest trends and must-have pieces for 2023. Bold prints, relaxed silhouettes, bright colors, and sustainable fashion choices are all in this season.
Regarding must-have pieces, stock up on lightweight jackets, comfortable shorts, Cuban collar shirts, and wide-leg jeans.
Don't let a tight budget keep you from looking stylish this summer! Thrift shopping or hunting for online deals during the sale season can help keep costs down while allowing you to stay on trend. So go ahead and mix and match pieces and experiment with accessories such as sunglasses or watches.
In short – be bold & embrace the latest Summer Fashion trends of 2023!
FAQ
What are some of the latest trends in men's summer fashion for 2023?
Some of the latest trends in men's summer fashion for 2023 include relaxed tailoring, bright colors, statement prints, and oversized accessories.
What are some must-have pieces for a stylish summer wardrobe?
Must-have pieces for a stylish summer wardrobe include lightweight linen or cotton shirts, chino shorts, comfortable loafers or espadrilles, and a versatile blazer that can be dressed up or down.
How can I incorporate current trends into my style without breaking the bank?
One way to incorporate current trends into your style without breaking the bank is by investing in key statement pieces that can be mixed and matched with existing items in your wardrobe. It's also important to shop sales and clearance sections of stores to find deals on high-quality clothing.
What should I consider when choosing clothes for hot weather during the summer season?
When choosing clothes for hot weather during the summer season, you should prioritize lightweight fabrics that allow air circulation, such as cotton or linen, and avoid dark colors that absorb heat. Breathable footwear like sandals or canvas sneakers is also typically more comfortable than heavy boots in warm weather conditions.